The onslaught of repressive forces on the striking workers of Ahvaz Steel was defeated with the resistance of the workers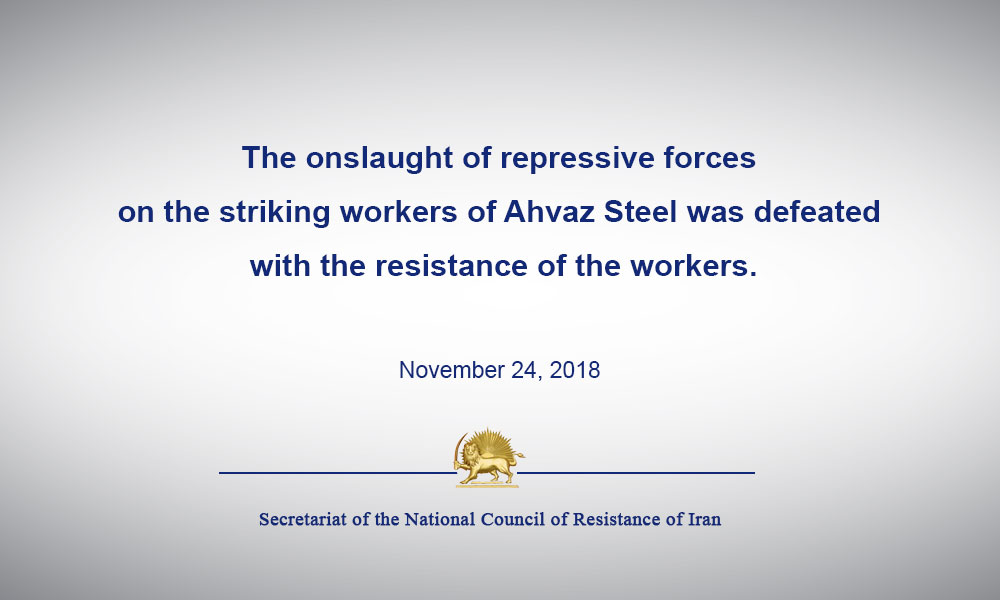 On Saturday, November 24, the hardworking Ahvaz Steel workers rallied gathered in front of the regime's governorate, rallied and marched toward the Pol Sefid. The police, with the onslaught on the workers and beating them sought to prevent the protests, but the workers, supported by a large number of young people in the city, forced the repressive forces to retreat with the slogan "Lest we are humiliated", and continued their demonstration on Naderi Street.
At the same time, Haft Tappeh sugarcane workers continued their strike for the twentieth day by gathering in front the regime's governorate in the city of Shush. The gathering came after Yavari, the regime's deputy minister of labor, falsely claimed that workers' salaries had been paid, their protests had ended and they had started working. Workers chanted: Even if we die, we will get our rights; the worker dies, he does not accept humiliation. It was written on workers' handwritten banners: Imprisoned workers must be freed!
Maryam Rajavi, saluted the Ahvaz Steel and Haft Tappeh sugarcane workers who continue their strike and protest despite the repressive actions of the mullahs regime, called on all risen people of Khuzestan, especially the youth, to be in solidarity and to support the strike of the oppressed workers. She called on the all trade unions and workers' rights defenders to condemn the anti-labor policies of the mullahs regime and to support the strikes and protests of workers in Iran.
Secretariat of the National Council of Resistance of Iran
November 24, 2018