Message to the Conference Announcing Norway's Parliamentary Majority Support for the Iranian Resistance and Uprising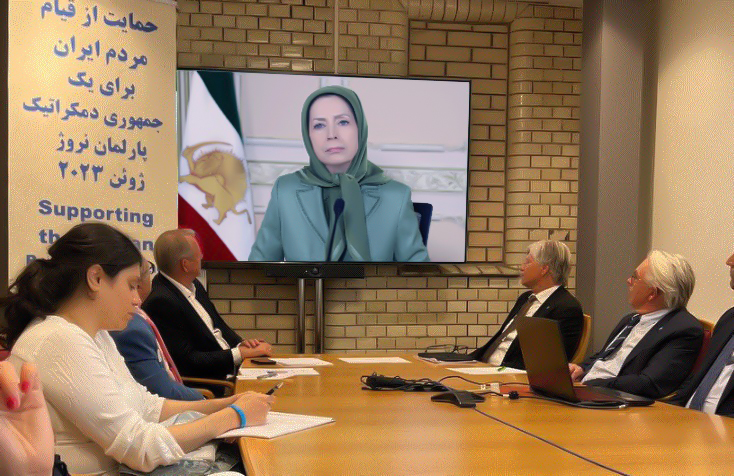 Maryam Rajavi: Norwegian MPs' Declaration Presents a Correct Policy against the Clerical Regime in Iran
The statement by the majority of members of the Parliament of Norway (Storting) presents a realistic and correct policy on Iran, which would respect the desire of the Iranian people and is necessary for peace and security in the region and the world.
In Iran, on the one hand, we witness the regime's continued brutality, and on the other, a significant increase of the resistance activities across the country.
The religious dictatorship ruling Iran has increased its suppression of the people, with more executions. Since the beginning of May, more than 170 prisoners have been executed including some of the protesters.
In addition, new legislation is underway to suppress women further under the pretext of improper veiling.
The regime finds itself unable to resolve the country's growing crises. Iran is rich in resources but 80% of its population live below the poverty line.
The clerical regime is allocating significant resources to domestic suppression, nuclear weapons ambitions, and its terrorist proxies in the region.
Despite the regime's relentless crackdown, protests continue. The courageous youth, using their right to self-defense, confront the repressive IRGC. Resistance Units have expanded their activities.
The people of Iran are determined to end the brutal dictatorship that has deprived them from their fundamental rights and basic needs of life. They reject any form of dictatorship be it the Shah or the mullahs' religious dictatorship. Their aspiration is for a democratic republic based on the principle of the separation of religion and state.
We firmly believe that the task of overthrowing the regime is the responsibility of the Iranian people and their organized resistance.
However, we do expect Western countries to stop their "business as usual" approach with a regime that systematically suppresses its own people.
Negotiating with Ebrahim Raisi, the regime's current president, who is personally responsible for the massacre of thousands of political prisoners as a member of the "Death Commission" in 1988, is truly shameful.
Today, there is no doubt that the IRGC will benefit from any business with the regime, which would further increase the regime's suppression, terrorism, and warmongering, or finance the regime's quest to obtain nuclear bomb.
I urge you to call on your government to:
First, recognize the Iranian people's aspiration for a free and democratic republic,
Second, acknowledge the right to resistance and self-defense for the Iranian people,
Third, blacklist the IRGC,
Fourth, along with other countries, take all the necessary measures –including the boycott of the purchase of oil from the regime– to deprive it of the resources it uses to suppress its people and export terrorism.