Explosion and fire in Evin prison, regime's scenario to massacre prisoners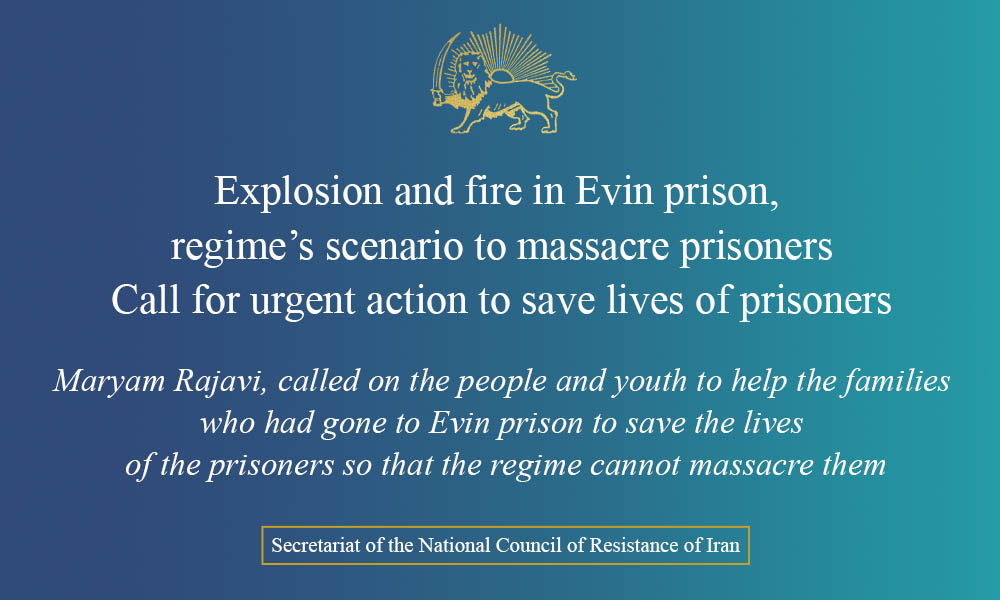 Call for urgent action to save lives of prisoners
Maryam Rajavi, called on the people and youth to help the families who had gone to Evin prison to save the lives of the prisoners so that the regime cannot massacre them
On Saturday night, October 15, at 21:50 local time, a massive explosion was heard from Evin prison in Tehran, where many of those arrested during the uprising are held. At 22:41, two more big explosions were heard from Evin prison. Simultaneously, the sound of gunfire could be heard from the prison area, and flames and smoke engulfed the prison.
For a long time, the sound of the volley of bullets and the continuous explosions of grenades could be heard. A number of prisoners were seen on the roofs of Evin prison.
Prison guards unleashed the dogs inside the prison to attack the prisoners. The Special Force known as NOPO (Supreme Leader's Special Security Force)stormed Evin prison. In a fake scenario, the regime's Judiciary claimed that there was a scuffle between the prisoners and that the tailoring workshop had caught fire.
Suppressive forces fired tear gas at the people who had gathered near Evin prison. In and around the prison, slogans of "Death to the dictator" and "Death to Khamenei" could be heard.
Mrs. Maryam Rajavi, the President-elect of the National Council of Resistance of Iran, called on the people and youth to help the families who had gone to Evin prison to save the lives of the prisoners so that the regime cannot massacre them. In a similar scenario, on October 9, at least 10 prisoners were killed by shooting and fire in Lakan prison in Rasht and many more were injured. Mrs. Rajavi urged the United Nations, the UN Council on Human Right, the High Commissioner for Human Rights and the European Union to intervene immediately to prevent the massacre in Evin prisoners.
Secretariat of the National Council of Resistance of Iran (NCRI)
October 15, 2022