Teachers' demonstrations in 22 provinces; retirees hold protests in Tabriz, Ahvaz, Rasht, and Doroud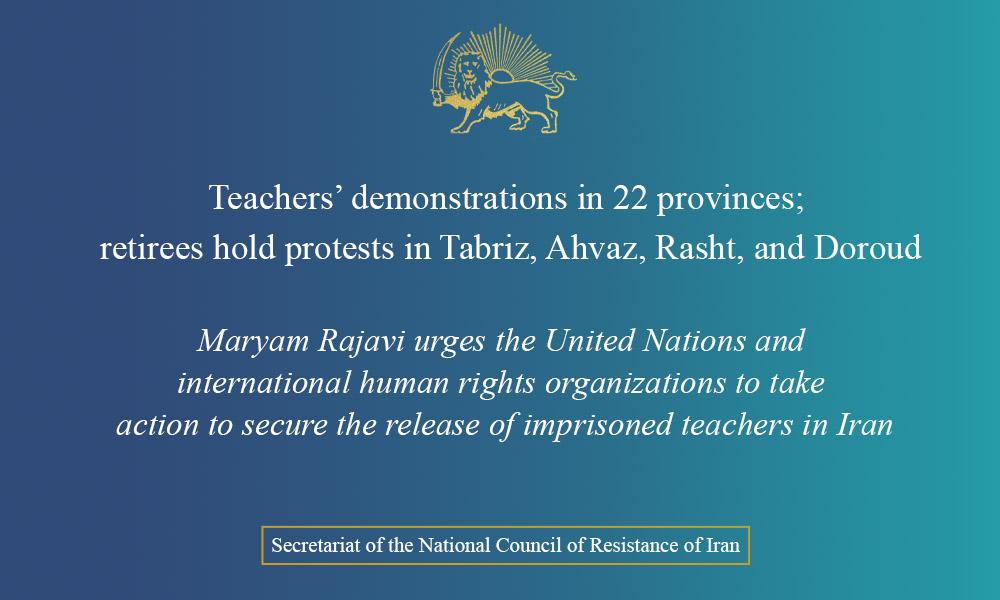 Maryam Rajavi urges the United Nations and international human rights organizations to take action to secure the release of imprisoned teachers in Iran
Teachers and education workers staged protest rallies in 22 provinces this morning, Thursday, June 16, to demand the release of imprisoned teachers and to protest lack of ranking and standardization of their salaries in the face of spiralling inflation and overwhelming high prices.
Protests took place outside education departments in many cities such as Marivan, Sanandaj, Kermanshah, Andimeshk, Saqez, Bukan, Karaj, Hamedan, Sari, Shahrekord, Kashmar, Bandar Abbas, Bijar, Shazand, Khorramabad, Bojnourd, Abdanan, Eslamabad-e-Qarb, Sardasht, Zanjan, Ardabil, Qazvin, Shiraz, Rasht, Lahijan, Isfahan, Doroud, Harsin, Malayer, Kamyaran, Urmia, Najafabad, Babol, Ahvaz, Yasuj, Arak and Rezvanshahr. Teachers marched in many cities.
Teacher protests proceeded despite repressive measures by state security forces. Teachers chanted, "Death to Raisi", "Teachers, stand up to end discrimination", "Imprisoned teachers must be released", "Government discrimination, the source of corruption", "With so much fuss, what happened to your promises?", "Our tables are empty; enough of injustice and suppression", and "Political prisoner must be released".
Placards held by teachers read, among other things, "teacher's place is in the classroom, not in prison". In several cities, regime repressive forces prevented teachers from gathering and arrested teachers in some cities. Regime's agents in Tehran prevented teachers from gathering in front of the regime parliament and arrested several of them. Repressive agents in Mashhad prevented teachers' gathering. In Marivan, teachers who had gathered outside the Education Department were initially dispersed, and in Sanandaj there were attempts to prevent their gathering, but in both cities, teachers managed to hold their rallies elsewhere. In Sanandaj, regime agents were stationed in various city squares and prevented public gatherings, and Special Unit motorcyclists were stationed in various locations. In Shiraz, repressive forces attacked teachers' gathering and arrested many of them. In Isfahan, the State Security Force (SSF) formed a cordon all the way from the governor's office up to the end of Bagh Goldasteh Street and did not allow any gathering. IRGC snipers were also stationed on the roof of the General Directorate of Education. In Qazvin, the repressive SSF arrested 10 teachers.
The regime's cyber police sent threatening messages to teachers and tried to prevent teachers' protests and activities through intimidation on social platforms. IRGC intelligence service arrested several social platform activists under the pretext of "disturbing public opinion". The regime is severely pressuring the arrested teachers to confess to any crime.
Simultaneously, Social Security pensioners rallied in the cities of Tabriz, Ahvaz, Rasht and Dorud to protest the high cost of living, inflation, and low wages.
Ms. Maryam Rajavi, President-elect of the Iranian Resistance, hailed noble teachers who once again voiced their just demands throughout Iran and called on Iranian youth to support them. She reiterated that the nationwide protests by teachers, pensioners, workers, and the bazaar strike had shocked the regime. The only way to achieve justice and freedom is to stand up and demand an end to the evil system of Velayat-e-Faqih. Arresting and summoning teachers in different cities will only strengthen their determination to restore their rights. She called on the United Nations and the international community to work for the release of all detainees.
Secretariat of the National Council of Resistance of Iran (NCRI)
June 16, 2022