Fifth consecutive night of protests in Ahvaz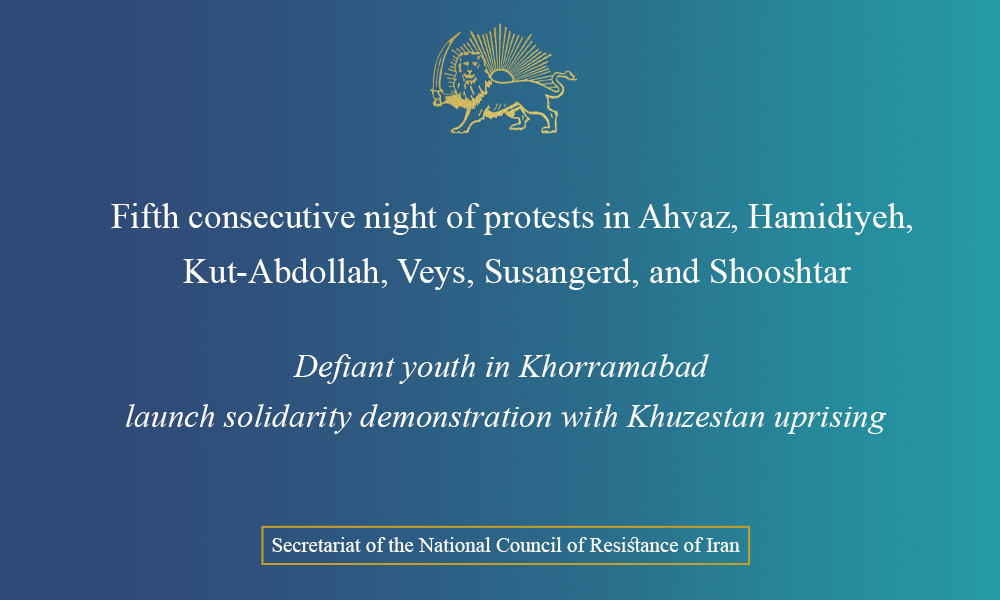 Defiant youth in Khorramabad launch solidarity demonstration with Khuzestan uprising
On the evening of Monday, July 19, the people of Khuzestan's uprising against the clerical regime continued despite the regime's severe repressive measures and deployment of reinforcements for the fifth consecutive night running. Thousands of brave youths of Khuzestan took to the streets in Kuy-Alavi and Shelangabad regions of Ahvaz, Hamidiyeh, Veys, Kut-Abdollah, Susangerd, and Shooshtar to protest against severe water shortages.
Ahvazi Arab compatriots lit fires in Kuy-Alavi (Farahani Street) to block the regime's repressive forces. The State Security Force (SSF) and special anti-riot units tried to disperse the demonstrators by pepper-spraying, firing tear gas and shotgun shells, and directly targeting defenseless protesters. Young protesters resisted state suppressive forces. The sound of gunfire could be heard in Shelangabad and Kuy-Alavi in Ahvaz.
Defiant youths in another region blocked the Behbahan – Ramhormoz Highway with bonfires on the road. In Khorramabad, people gathered in solidarity with the uprising in Khuzestan on the Masur highway (at the city entrance).
Mrs. Maryam Rajavi, the President-elect of the National Council of Resistance of Iran (NCRI), saluted the protesting people of Ahvaz and other regions of Khuzestan and praised their resolve. She called on the people and youth of other areas to rise in support of the Khuzestani protesters. Mrs. Rajavi emphasized that poverty, inflation, unemployment, disease, water, and power shortages, are the disasters of the clerical regime's rule for the people of Iran. Freedom and justice are possible only with the overthrow of this regime and the establishment of democracy and national sovereignty, she added.
Secretariat of the National Council of Resistance of Iran (NCRI)
July 19, 2021