Maryam Rajavi: After long delay, astronomical rigging, regime admits defeat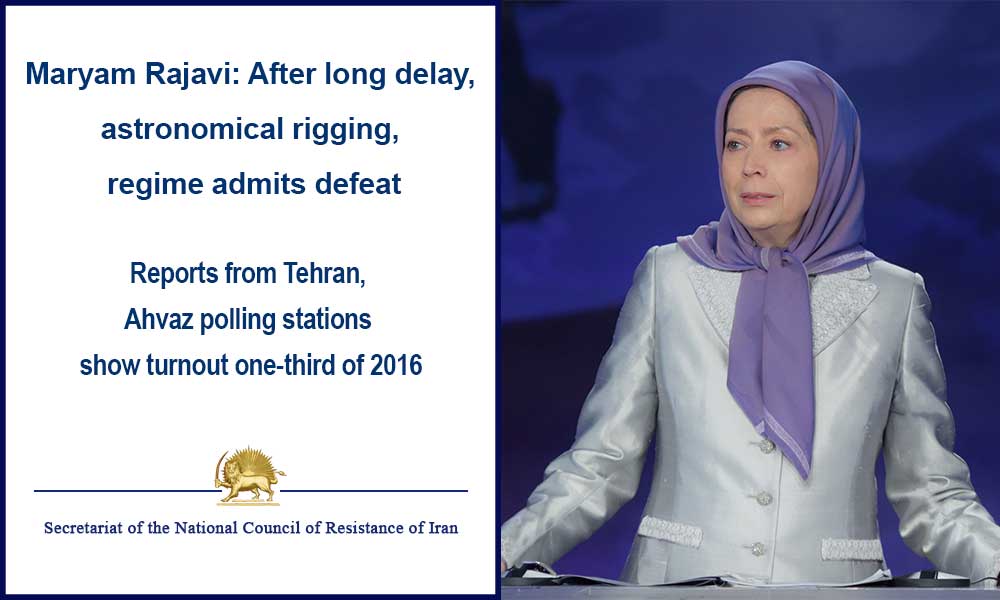 After two days of confusion and fabrication of bogus figures, Abdolreza Rahmani Fazli, the regime's Minister of Interior, announced that 42.5 percent had voted in the sham parliamentary election. Even this completely bogus figure shows a 30 percent drop relative to the 2016 election. This is while the nationwide boycott of this charade had already been reported worldwide. To justify the sparse turnout, Rahmani Fazli said, "Given the political situation and such issues as the crash of the (Ukrainian) airliner, the incidents in November (2019) and January (2020), and other these circumstances, this level of presence and participation by the people is totally acceptable."
This morning, the regime's Supreme Leader Ali Khamenei, tried to justify this crushing defeat. He said, "A collective campaign was undertaken against people's participation in the election. On social media, a variety of entities used every factor possible… Since a month, two months ago, they said this was not an election, not a real election, the Guardian Council has done this or that… And this latest illness (COVID-19) became an excuse. In other words, they did not miss the slightest opportunity and did not even wasted a few hours."
Mrs. Maryam Rajavi, the President-elect of the National Council of Resistance of Iran (NCRI), said the figures announced by the regime, after long delay, astronomical rigging and contradictory statements, reflect a reluctant admission to defeat in the sham election. She added: In boycotting this charade, more than 90 percent of the Iranian people voted for the overthrow of the ruling religious fascism and welcomed the slogan of Resistance Units that "my vote is overthrow." This crushing defeat will only aggravate the mullahs' internal feuding and their deadly impasse, expediting their overthrow by the Iranian people and Resistance.
The figures announced by the Interior Minister come as the IRGC's news agency, Fars, wrote that less than 20 percent had voted in Tehran. IRGC Brig. Gen. Mohammad Baqer Qalibaf, who came in first among the candidates in the capital, received only 14 percent of the vote.
In the past few days, foreign journalists who went to Iran and visited polling centers, albeit the busiest ones, such as Hosseiniyeh Ershad, reported widespread boycott, quoting "responsible officials," as saying that 15 percent had voted in Tehran and 26 percent nationwide.
Based on the Interior Ministry's internal reports, the number of ballots used in Hosseiniyeh Ershad was one-third of ballots used in 2016. The number of disqualified and blank ballots were much more as well. According to a similar report from Jame' Mosque in Qods, the total number of votes cast was 288, or one-third of those in 2016 (790). In other Tehran polling stations, like Nabi and Nezam Mafi mosques, and Emamzadeh (Saint) Saleh in Tajrish (north Tehran) the turnout was the same. Reports from Ahvaz, southwest, to the Interior Ministry shows that the ballots used in each polling station in the city was on average 70 percent less than 2016.
Secretariat of the National Council of Resistance of Iran
February 23, 2020