Maryam Rajavi: Attack on neighboring country's oil installations is a major and belligerent step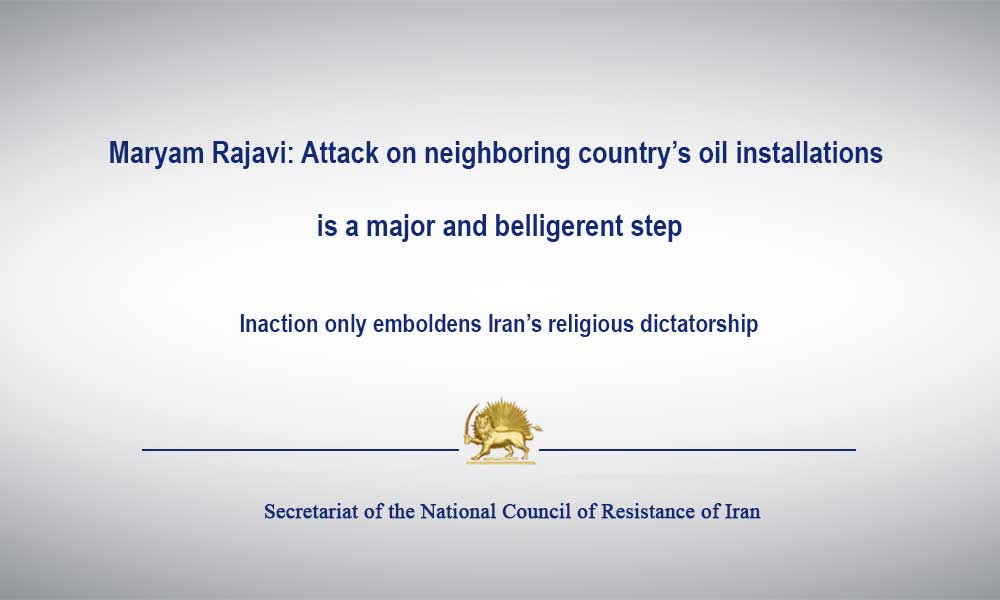 The Iranian regime's coordinated missile and drone attack on Saudi Arabia's oil installations is a blatant act of war.
Subsequent to the attack, the clerical regime's Supreme Leader Ali Khamenei rejected any negotiations at any level with the United States unless "America repented."
He also stressed, "They send the Europeans… to insist to us to come and have a meeting with the American President and all your problems will be solved. This is because they want to prove that the policy of maximum pressure is a success. On the contrary, we must prove that the policy of maximum pressure is not worth a penny."
Mrs. Maryam Rajavi, the President-elect of the National Council of Resistance of Iran (NCRI), described the attack on a neighboring country's oil installations a major step and a new phase in the warmongering aggressions of the religious dictatorship ruling Iran, adding that exerting power and decisiveness is the only language the mullahs understand.
Inaction only emboldens this medieval regime, whose primary victims are the Iranian people, she noted, emphasizing that the ultimate solution to rid the world of Iran's ruling religious fascism as the source of all crises in the region is a change of this illegitimate regime by the Iranian people and their organized Resistance movement. As such,
– Previous United Nations Security Council resolutions on the mullahs' nuclear weapons project and the ban on enrichment must be reinstated.
– Eviction of the regime, its Revolutionary Guards and mercenary militias from Iraq, Syria, Yemen, Lebanon and Afghanistan is an urgent imperative.
– The European Union must place Khamenei, his offices, the IRGC and the Ministry of Intelligence on the terrorist watch list.
– The UN Security Council must refer the clerical regime's dossier on human rights abuses and atrocities, especially the 1988 massacre of 30,000 political prisoners to an international court.
– The world community must recognize the right of the Iranian people's Resistance to overthrow the ruling theocracy and attain freedom.
Secretariat of the National Council of Resistance of Iran
September 18, 2019