Maryam Rajavi attends Christmas Eve Service at St Germain-des-Près, Paris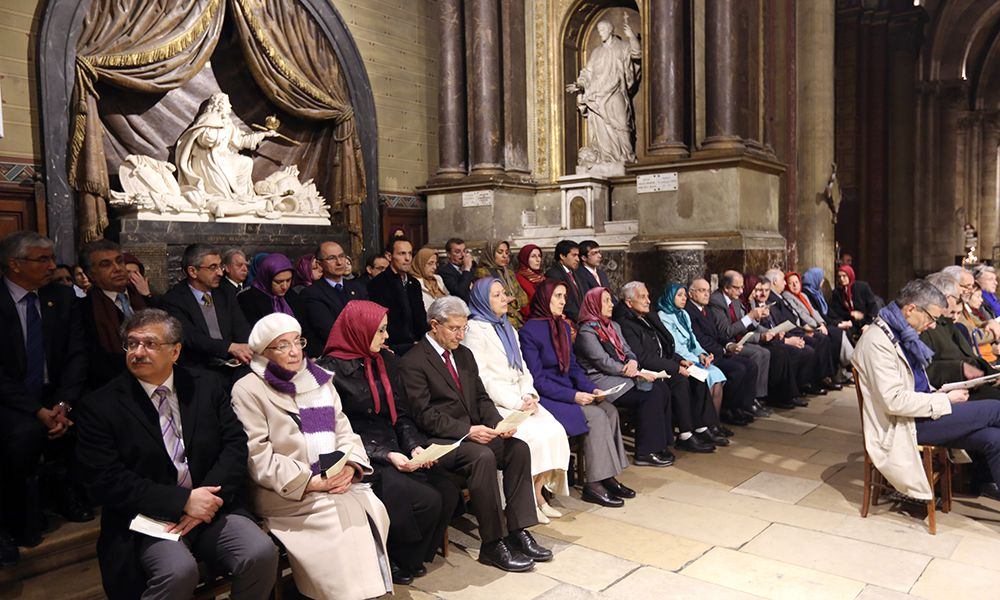 Paris, December 24, 2015 – Maryam Rajavi attended a Christmas Eve ceremony at one of the historic churches in the French capital, Saint Germain-des-Près Abbey
The church's Minister welcomed Maryam Rajavi and the delegation accompanying her. The service began with Christmas carols and hymns.
At one point, Maryam Rajavi laid flowers at the statue of Christ's birth.
Subsequently, Maryam Rajavi toured the abbey and lit candles before the beautiful statues of Virgin Mary.
In his opening sermon, the Saint Germain-des-Près Minister announced Mrs. Rajavi's presence in the Christmas Eve ceremony and introduced her to the audience. He expressed his Christmas greetings to the guests from the Iranian Resistance and also prayed for those Muslims who have been victimized by extremists.
Maryam Rajavi also extended her Christmas greetings and said: I have come here to pray before Jesus Christ for the salvage of my oppressed people in Iran. I have come to pray for the salvage of people in the Middle East from the clutches of tyranny and extremism under the name of Islam. And I have brought with me the message of Iranian Muslims, especially the men and women who are enduring steadfast at Camp Liberty.
On the Christmas following the tragic loss of a large number of Parisians in a terrorist attack on November 13, she added, I have come to ask God for salvation of their souls and consolation of their families. As a Muslim woman I reiterate that Islam is shocked by the violence and terrorism perpetrated in the name of God.
Islamic fundamentalists, and on the top of them the mullahs ruling Iran, are the enemies of Christ, his message, Mohammad and Islam although the latter promotes compassion, freedom and brotherhood with followers of other religions.
Maryam Rajavi added: Christ's message is one of deliverance, unity and all-out steadfastness against oppression and duplicity; and our Resistance strides in the same path. Maryam Rajavi also urged all Christians to pray for victory and freedom of the oppressed people and political prisoners of Iran.