With the release of 16 new names, a total of 520 names of martyrs of the nationwide uprising have been announced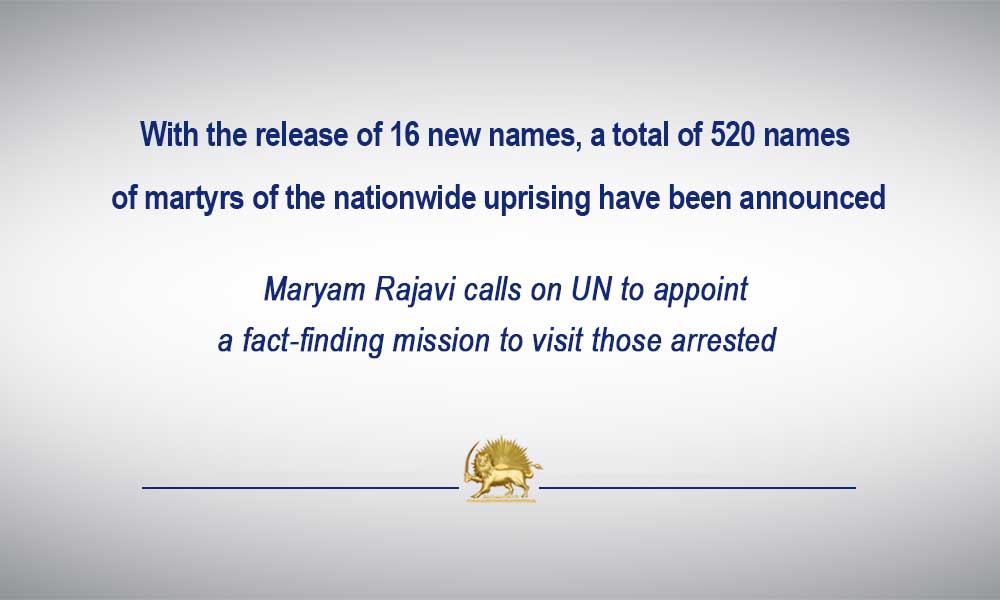 The People's Mojahedin Organization of Iran (PMOI/MEK) released the names of 16 more martyrs of the nationwide uprising, bringing to 520 the number of victims identified so far. The PMOI has confirmed more than 1,500 martyrs in different provinces across the country. At least 400 have been killed in Tehran, 320 in Kermanshah, 270 in Fars, 240 in Khuzestan, 120 in Isfahan, and 100 in Alborz (Karaj) provinces.
The clerical regime, fearing the domestic and international consequences of its crime against humanity, is doing its utmost to hide the number of martyrs and their names as well as the number of those arrested and imprisoned.
Emphasizing that by any measure this atrocity amounts to a manifest case of crime against humanity, Maryam Rajavi called on the United Nations Security Council and the European Union to take urgent action to secure the release of those arrested. She again urged the UN to establish a fact-finding mission to investigate this horrific crime and visit the regime's prisons and the prisoners.