Maryam Rajavi: Hiding spread of COVID-19 in fear of sparse turnout in revolution anniversary and sham election leads to spread of the virus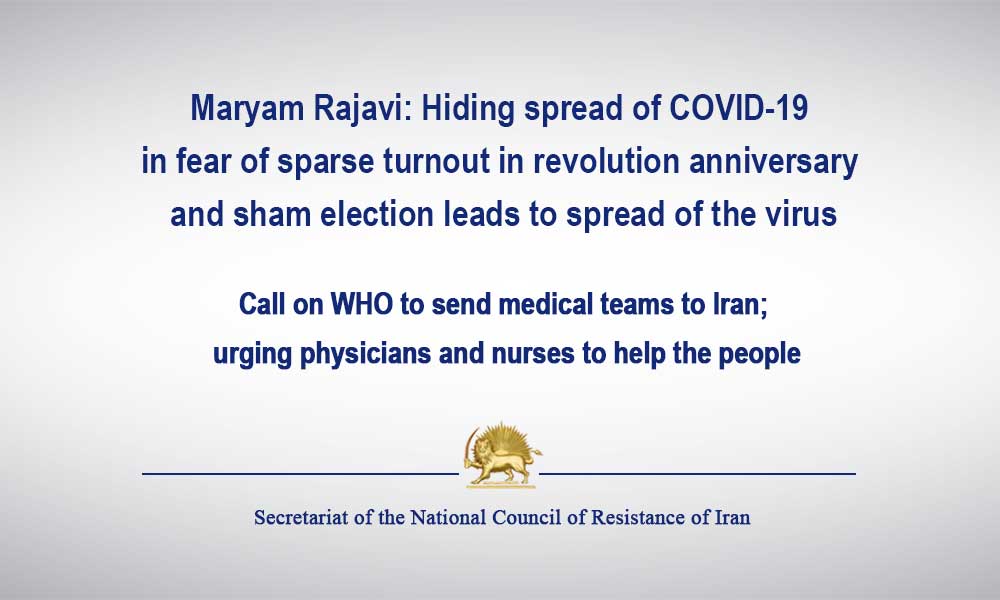 Last evening, Mrs. Maryam Rajavi, the President-elect of the National Council of Resistance of Iran (NCRI), expressed her sympathies with fellow compatriots effected by Coronavirus (COVID-19). She said the mullahs' regime had been aware of the spread of the virus to Iran long time ago. But on the order of the regime's Supreme Leader Ali Khamenei, it resorted to a cover-up to ensure a high turnout for the anniversary of the 1979 revolution and the sham election. The virus rapidly spread to different parts of Iran because people were kept in dark.
Mrs. Rajavi again called on the World Health Organization, WHO, to dispatch supervisory and medical teams to Iran. She also urged Iranian physicians and nurses to advise and assist the people to confront the virus. She emphasized that the regime must put medical resources monopolized by the mullahs and the IRGC at the disposal of the people, hospitals and physicians.
Meanwhile, this morning, with utter cruelty and ruthlessness, Khamenei refrained from even nominally expressing sympathy with the victims of the virus. Without even mentioning COVID-19, he said this was an excuse to urge people to boycott the election. "In the last two days, the pretext of an illness and virus was used, and their media did not miss the slightest opportunity to discourage people from voting not even several hours," Khamenei said. Of course, as far as the Iranian people are concerned, the despicable rule of the mullahs is the real Coronavirus, and the root cause of the Iranian people's pain, suffering and difficulties, and must be uprooted.
Whereas the Ministry of Health, Khamenei, Hassan Rouhani, and other regime leaders were aware of the spread of the virus to Iran at least one month ago, the first directive to deal with it was reluctantly issued to the provinces on February 20. Today, the Health Minister admitted that the virus had entered Iran from China and carried by people who travelled there. While most countries have canceled flights to China, IRGC's Mahan Air flights to China have continued.
Secretariat of the National Council of Resistance of Iran
February 23, 2020