Coronavirus fatalities in 175 cities exceeded 4,500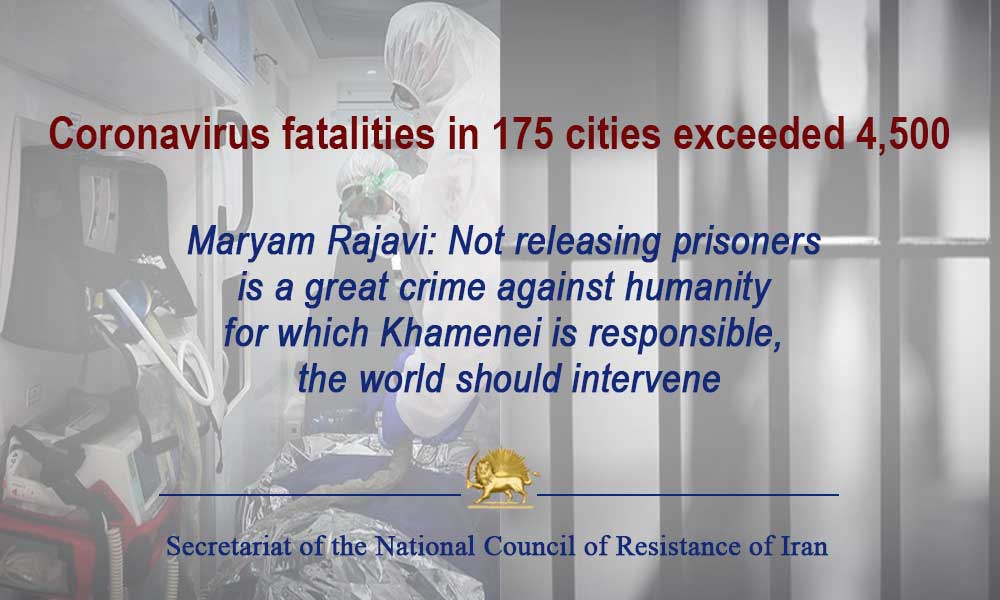 The People's Mojahedin Organization of Iran (PMOI/MEK) announced this afternoon Saturday, March 24, that the number of Coronavirus victims in 175 cities across Iran is more than 4,500. The number of victims in Qom is at least 700 and in Tehran at least 650. In Gilan 577, in Mazandaran 350, in Isfahan 450, in Khorasan Razavi 427, in Khuzestan 144, in Kurdistan province 151, in Lorestan 138, in Qazvin 121, in Yazd 62, in Sistan and Baluchistan 48, and in Kerman 32 people have lost their lives for Coronavirus.
As the corona crisis escalates, the infighting within the regime intensifies. While Ali Khamenei (Supreme Leader) appointed IRGC Major General Mohammad Bagheri, Chairman of the Joint Chiefs of Staff of the Armed Forces, to form the "Health Command Center", 100 members of the regime parliament wrote a letter to Hassan Rouhani, asking him to convene the daily meetings of the "committee to combat coronavirus". Rouhani had proposed to convene that meeting only on Saturdays. In the meantime, Mohsen Rezaei, Secretary for the regime's Expediency Council, wrote on his website: "Rouhani took pride from the Iran deal (JCPOA) and after the death of the deal, he is still mourning such that he has been very passive in all other public affairs, and this is still the case."
On the other hand, a multitude of reports from MEK sources inside Iran indicate that the predicament of doctors, nurses and medical staff has become quite alarming. Most are deprived of clothing and basic protective equipment. The number of medical staff who have lost their lives to Coronavirus, especially in Gilan and Mazandaran is rising steadily. The aid provided by WHO and other countries has ended up in IRGC's warehouses and allocated to special IRGC hospitals. Some of it is sold in the black market at exorbitant prices.
Mrs. Maryam Rajavi, the President-elect of the National Council of Resistance of Iran (NCRI) called on WHO to directly supervise Iran's medical staff and report directly to the United Nations Secretary-General and the Security Council.
Mrs. Rajavi also raised the plight of prisoners, particularly political prisoners in view of Coronavirus outbreak in prisons, reiterating that refusing to release the prisoners under the circumstances is a major crime against humanity, for which Khamenei and other regime leaders are directly responsible. She called on the UN Security Council, the Secretary-General, the High Commissioner, the Human Rights Council, and the European Union and its member states to take urgent action to save the lives of prisoners G global intervention is more important than ever to prevent a humanitarian catastrophe, she said.
Secretariat of the National Council of Resistance of Iran (NCRI)
March 14, 2020