Iran: Coronavirus death toll increases to 13,000 in 231 cities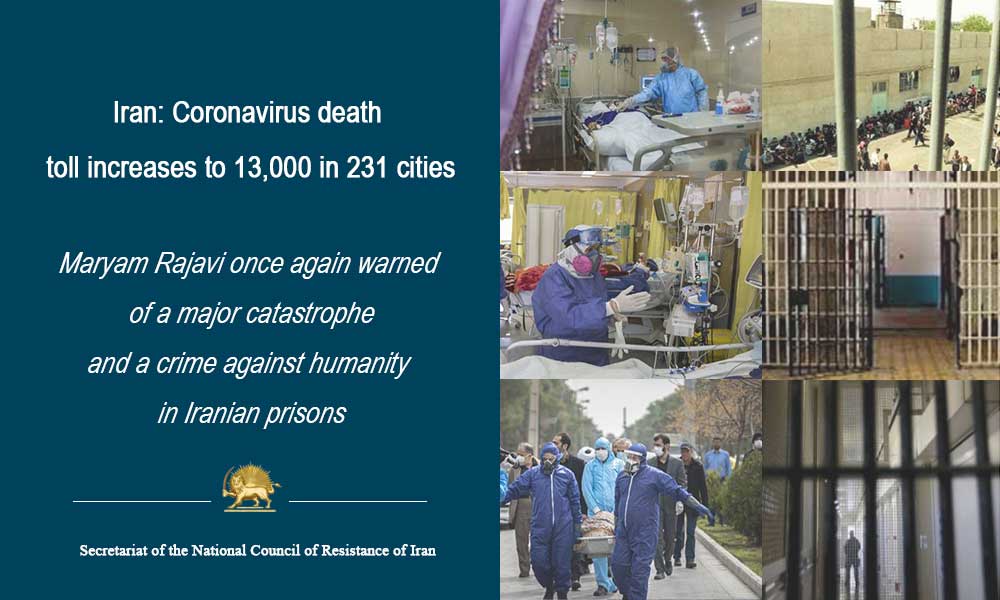 The number of victims in Alborz is 520, in Gilan 1,300, in Mazandaran 1,030, in Hamadan 290, in Semnan 90, in Khorasan Razavi 1070, in South Khorasan 33, and in Hormozgan 33.
Today a spokesman for the regime's Health Ministry announced that in the past 24 hours, 3,076 people had been infected to the virus, which is 220 percent more than a week ago today.
Eyewitnesses in the northern city of Babol say the situation in the city and surrounding villages is catastrophic. Several people are dead in every alley and every village. No one is spared from infection. The situation in the mortuaries and cemeteries is terrible. Local authorities are not in their offices and there is no one to respond.
The head of Khomeini hospital in Ardebil was quoted by local television station as saying, "The figures given by the Health Ministry only refer to those who've tested positive to the virus. But are we testing all patients? No. The hospital is full, and the medical staff are exhausted now. Nurses and doctors are exhausting themselves so much that I sometimes cry… During the past 24 hours, we have had 290 new Coronavirus patients".
Nevertheless, Hassan Rouhani, terrified of the prospects of popular uprisings, expressed anger about the disclosure of the scale of the disaster, saying, "Those who are spreading rumors … are close associates of Coronavirus." Adding to his daily lies, Rouhani claimed, "Our health infrastructure is so robust that we have not only endured the pressure so far but also if the virus spread extends several weeks and reaches its peak, our hospitals, doctors, and nurses are prepared and capable of treating the patients …We are not like those countries where patients have collapsed on hospital floors"!
However, at a conference held at the Ministry of Health, Ali Akbar Haghdoust, head of the Coronavirus's National Epidemiology Committee, said, "The virus has been creeping and quietly circulating in several cities since early February. Given the current circumstances, it seems that we may be able to relatively control the virus in May… (Though) we have not yet reached a peak in Tehran, … I hope that there will be (hospital) beds available then so that we can manage the crisis."
Meanwhile, repression and censorship continue nonstop. Today, IRGC Col. Hossein Amirli, the notorious Cyber Police (FATA) deputy commander, said that 998 cases had been summoned, with 974 identified and 316 registered. He also said that 299 people had received telephone warnings and "criminal contents" had been deleted from their accounts.
The situation of prisoners are worsening. Many prisoners have died of Coronavirus, including in Urmia, Great Tehran Penitentiary (Fashafouyeh), Ghezel Hesar, … In recent days, defenseless prisoners in Khorramabad, Aligudarz, Tabriz, and Saqqez had no choice but to rebel. A number of them managed to escape while several were shot and killed by the Revolutionary Guards. The mullahs' judiciary has intensified its repressive measures in prisons, especially in Fashafouyeh in Tehran, and has denied prisoners fresh air.
Mrs. Maryam Rajavi, the President-elect of the National Council of Resistance of Iran (NCRI), once again warned of a major catastrophe and a crime against humanity in Iranian prisons. To prevent the collective loss of lives, she called for urgent action by the United Nations Secretary-General, the Security Council, the Human Rights Council, the High Commissioner for Human Rights, and the European Union to undertake an effort to secure the release of all prisoners, especially political prisoners.
Secretariat of the National Council of Resistance of Iran
March 28, 2020