Maryam Rajavi denounces missile attacks on HQs of Kurdish parties, execution of three Kurdish activists, calling them crimes against humanity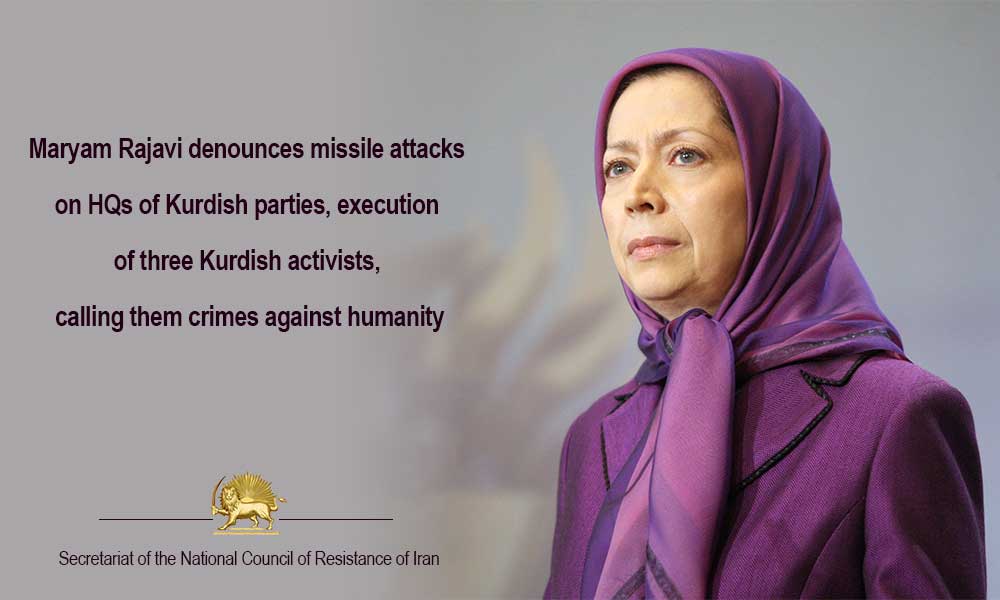 The Iranian regime today hanged three Kurdish political prisoners, Ramin Hossein-Panahi, 24, Zanyar Moradi, 30, and Loghman Moradi, 32, in Gohardasht Prison, Karaj.
Faced with overwhelming popular outrage and detestation, the regime carried out the executions despite repeated international calls, to terrorize the public and prevent further anti-regime protests.
The three prisoners had been on dry hunger strike for several days. Zanyar and Loghman were in jail for more than nine years, and Ramin had been imprisoned over the past 14 months. They were under severe duress during their incarceration.
The Iranian Resistance has repeatedly called, including yesterday, on the UN Security Council and its member states, to take urgent action to prevent these arbitrary executions in blatant contradiction to recognized international norms.
In another development, the Iranian regime launched missiles at the headquarters of the Kurdistan Democratic Party of Iran and the Kurdistan Democratic Party, deep inside the territory of the Iraqi Kurdistan. A number of members and pishmargas of the two parties were killed and more were wounded.
Run by Mohsen Rezaii, former IRGC Commander and Secretary of the State Exigency Council, Tabnak website wrote a few hours after this criminal attack, "The forces of the Revolutionary Guard Corps… have targeted since this morning, Saturday (September 8), the military positions… of the Kurdistan Democratic Party of Iran and the Democratic Party near the city of Kouyeh, 200 kms from the Iranian border."
Tabnak added, "The IRGC launched six surface-to-surface missiles at the headquarters of the Kurdistan Democratic Party which left dozens dead and wounded."
The President of the Council of Ministers of the Kurdistan Region of Iraq issued a statement condemning the strikes at the headquarters of both parties "by the Islamic Republic of Iran which lead to a number of deaths and casualties."
Maryam Rajavi, described the Iranian regime's execution of three Kurdish activists and the missile attacks on the headquarters of the Kurdistan Democratic Party of Iran and the Kurdistan Democratic Party as crimes against humanity, and called on the United Nations Security Council to address these atrocities.
She hailed those martyred and offered her condolences to the Kurdistan Democratic Party of Iran and Kurdistan Democratic Party as well as the fellow activists and relatives of those who lost their lives or were executed. She also wished quick recovery for those wounded in these criminal attacks.
Maryam Rajavi called on the people of Kurdistan and across Iran to rise and protest against the Iranian regime. "The mullahs' anti-human regime is hell-bent on stepping up the atmosphere of terror and repression to extinguish the Iranian people's uprising through suppression, executions, bombardment and missile attacks. But it will take that wish to the grave," she said.
Secretariat of the National Council of Resistance of Iran
September 8, 2018