FATF blacklisting of the Iranian regime a crushing blow to the mullahs, indispensable to combating terrorism and warmongering worldwide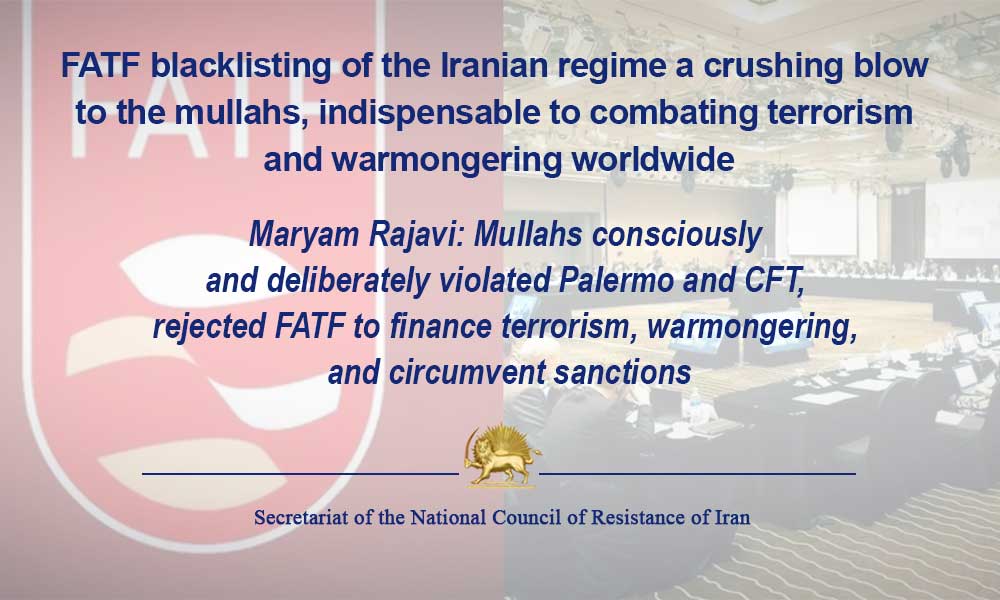 The decision by FATF to again blacklist the terrorist, religious dictatorship ruling Iran is an extremely necessary, albeit long overdue, step in combatting terrorism and money laundering worldwide.
Since the 2016 removal of the Iranian regime from FATF, its terrorist and belligerent meddling in the region have expanded at a frantic pace, and proved once again that granting concessions to the ruling theocracy would never result in a change in its behavior.
Mrs. Maryam Rajavi, the President-elect of the National Council of Resistance of Iran (NCRI), said: Backlisting the clerical regime is indispensable to combatting terrorism and warmongering in the Middle East and across the globe. She added: The mullahs consciously and deliberately violated Palermo and CFT and refused to accept FATF in a bid to continue to finance terrorism and belligerence, and circumvent the sanctions.
The NCRI President-elect underscored that terrorism and warmongering are indispensable to this regime and critical to its survival. It will never abandon financing terrorism and money laundering. Nor will it never submit to financial transparency. Trade with this regime does not serve the interests of the Iranian people and only provides fuel to the mullahs' machinery of suppression and terrorism.
The international community must cease offering any assistance to, and refrain from engaging in, any financial transactions with the mullahs' regime and should stand by the Iranian people and their aspirations for regime change and establishment of freedom and democracy. This is an imperative for combating terrorism and money laundering, and bringing peace and tranquillity to the region.
Secretariat of the National Council of Resistance of Iran
February 21, 2020