Maryam Rajavi: The history of resistance for freedom will eternally remember the heroines and heroes slain in Ashraf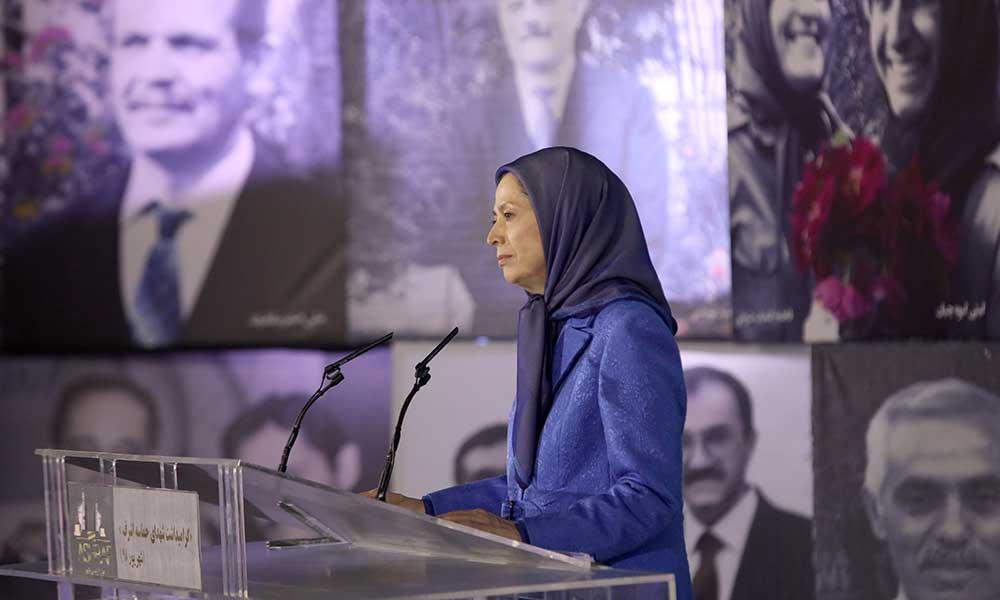 Excerpts of remarks to the ceremony commemorating those martyred in Ashraf on September 1, 2013
Dear sisters and brothers,
We have gathered on the anniversary of the massacre in Ashraf on September 1, 2013, to commemorate the glorious resistance of its heroines and heroes.
The epical resistance in Ashraf was a brilliant epitome of the great ideal of our time, the ideal of freedom and equality.
The epical resistance of the heroes in Ashraf harbingered the ultimate victory of the Army of Freedom and showed the way to those who rise up in Iran to end the tyrannical rule of the mullahs' regime.
Our heartfelt salutes to the 52 members of the People's Mojahedin Organization of Iran (PMOI/MEK) who were executed on September 1, 2013, by mercenaries dispatched by Khamenei and his terrorist Quds Force, and pay tribute to the 7 PMOI members abducted.
I still remember the moment when I learned of the raid on Ashraf. And all of you certainly remember, too. I knew that the message of that unequal battle would spread throughout Iran, despite the outcome whatever it may be. Ashraf was drenched in blood but never died. The great sacrifice in Ashraf gave rise to 1,000 Ashrafs.
This is why Massoud Rajavi said, "Ashraf remains as an unforgettable epic in Iran's contemporary history." Ashraf stands as the land of freedom for the Middle East nations. Although it has been invaded and its buildings occupied, but its restive soul is moving through cities all across Iran.
Ashraf was the seat of the National Liberation Army of Iran. On Massoud Rajavi's brilliant initiative, and under his leadership, it became a memorable example of the world's most rebellious city. The message of Ashraf has been inspiring cities all across Iran to rise up. The cause Ashraf cherished and sacrificed for, is what the 1,000 Ashrafs are pursuing, and is the ideal of the people of Iran and all humanity.
This is how that courageous battle embodied the message of victory over a gloomy destiny and over the treacherous mullahs' regime.
Governments who appease the regime and fail to take action against its crimes, the parties who failed to fulfill their pledges to Ashraf, the international agencies who replaced their commitments with treachery and fear, all of them were disgraced in this great test.
You, however, members of the PMOI who proudly stood firm against the enemy's savagery, bore witness to the atrocity of the assassins, fought them in the midst of that massacre, and launched an admirable fight to expose their crimes.
Although the martyrs of Ashraf are not among us today, but the movement inspired by their resistance is carrying on the struggle until the day of victory and emancipation of the people of Iran.
Hail to the martyrs of the epical resistance in Ashraf, the unforgettable heroines and heroes in the history of resistance for freedom.