Maryam Rajavi: Hundreds of billions of dollars of the Iranian people's wealth plundered by the regime can easily pay for the expenses of the impoverished so that they could be quarantined and remain immune to COVID-19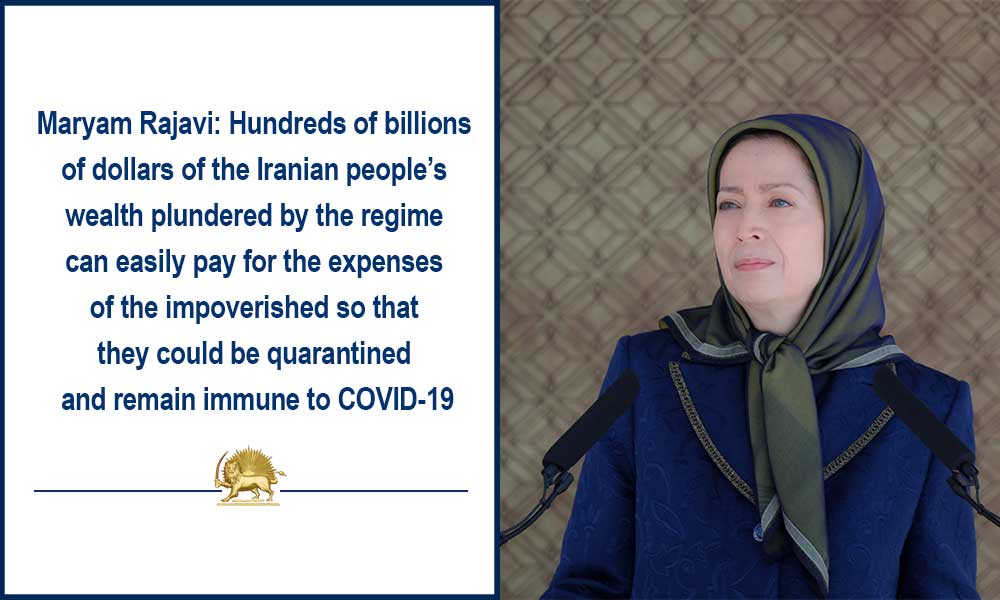 The mullahs' president, Hassan Rouhani, announced that for three million families who make up "the impoverished and deprived sectors … we have considered four aid packages from 200,000 to 600,000 tomans [equivalent to $12 to $36]."
He added that a loan of one million to two million tomans [equivalent to 60 to 120 dollars] will be given to four million low-income families but would be deducted from their subsidies in the next 24 months!
The shameful aid package is being touted while Parviz Fattah, the head of the Mostazafan Foundation, told the state TV that Qassem Soleimani had received funds from his foundation to pay $1,500 a month to the members of the regime's Afghan proxy group, Fatemiyoun in Syria. (The state-run Sharq newspaper, April 4, 2020)
In the meantime, today, April 6, 2020, Khamenei approved Rouhani's request 11 days ago to draw one billion Euros from the National Development Fund to cope with the pressing situation. This amount is only a fraction of hundreds of billions of dollars in the possession of foundations and organizations controlled by Khamenei.
The token aid by Khamenei and Rouhani to cover the massive blow by Coronavirus to three million deprived families is less than a day's wage paid to Iraqi and Afghan mercenaries of the terrorist Quds force.
The insulting gesture reflects the regime's fear of an uprising.
Khamenei and Rouhani have left millions of helpless Iranians without protection in the face of coronavirus outbreak, while the wealth of the country controlled by the IRGC and its affiliates, the Mostazafan Foundation, the HQ to Execute Khomeini's Order, Khomeini's Relief Committee, the Martyrs Foundation, Astan-e Quds Razavi Fund, and other major economic organizations can easily pay the wages of workers, office employees and unemployed so that they can be quarantined.
This wealth usurped by Khamenei and his corrupt mullahs must immediately be put at the disposal of the Iranian people.