Iran: Unlimited storage of enriched uranium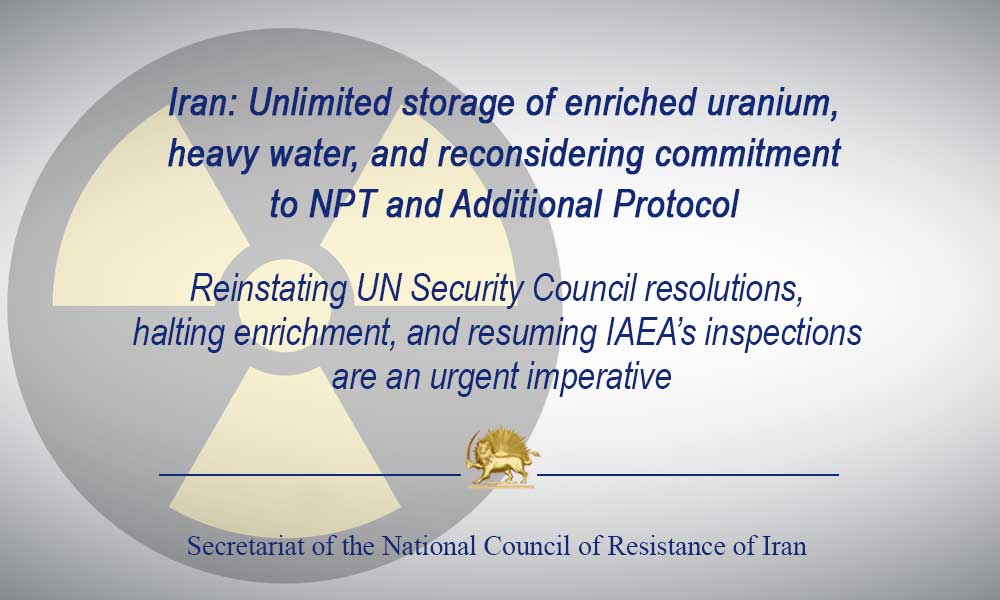 Reinstating UN Security Council resolutions, halting enrichment, and resuming IAEA's inspections are an urgent imperative
In an interview with Fars News Agency on April 5, Ali Akbar Salehi, head of the Iranian regime's Atomic Energy Organization, said, "Nuclear activities, as well as research and development on the nuclear fuel cycle, uranium conversion, and enrichment (including production and storage), are being carried out without any restrictions…. Enriched uranium production and stockpile are now as high as pre -JCPOA period, heavy water storage is being carried out without any restrictions the process of building the Arak heavy water research reactor (new design) is advancing in cooperation with foreign parties and the use of related equipment."
"Despite the JCPOA, many research activities have continued (such as research on high-quality, high-performance centrifuges). It's a logical combination of improving quality and increasing quantity … like using new centrifuges, besides increasing the number of old running machines," he added.
While the mullahs' regime is already violating the nuclear deal and the NPT by refusing to allow IAEA's inspections, Salehi admitted that the regime is considering to "review its commitment to the Additional Protocol and the NPT.," While accusing the IAEA of spying, he said, "The IAEA should not be a complementary lever in the hands of some countries' intelligence services, and be used to verify the information that confirms the espionage activities." Last month, the IAEA's director-general said the regime had prevented its inspectors from having access and had "not provide us with the information we wanted … They did not allow us … as far as I am concerned, we need to take measurements. It means that Iran is preventing the IAEA from doing its job."
Salehi's remarks are a good indication that the mullahs' regime has never abandoned its covert nuclear weapons project and continues to hide and provide false and misleading information while accelerating its illegal nuclear activities by taking advantage of the Coronavirus global crisis. In a situation where more than 20,000 Iranians have died so far as a result of the virus, instead of providing the cost of living to the needy people so that they could stay in quarantine, Khamenei and Rouhani are ordering them back to work, sending them to the altar of Coronavirus. They are squandering the country's wealth by investing in the atomic and missile projects and warmongering abroad.
Reinstating six UN Security Council resolutions, the complete halt to enrichment, the closure of all nuclear sites, and anytime, anywhere, snap inspections are necessary and urgent to prevent Iran's ruling religious fascism from acquiring the atomic bomb. Following the signing of the nuclear deal on July 14, 2015, Mrs. Maryam Rajavi, the President-elect of the National Council of Resistance of Iran (NCRI), underscored that circumventing six Security Council resolutions would not prevent the mullahs' deception and the quest to obtain an atomic bomb.
Secretariat of the National Council of Resistance of Iran (NCRI)
April 7, 2020