Despite brutal repression, Iran uprising continues for the third day among slogans death to dictator, death to Khamenei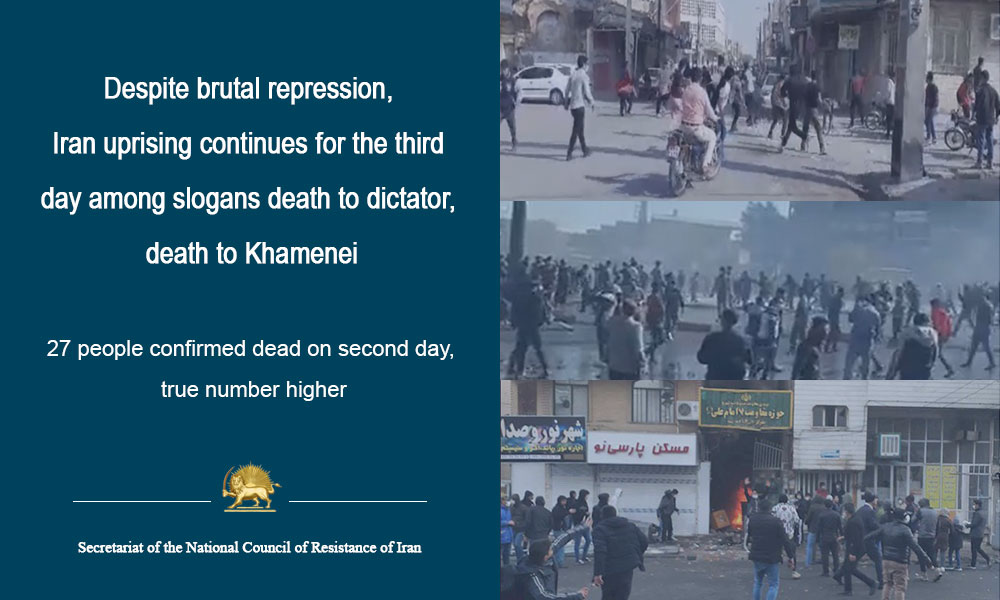 Despite brutal repression, the Iranian people's uprising spread in its second day (Saturday November 16) to 93 cities across the country. IRGC forces opened fire on the people on strict orders from Khamenei, killing tens of demonstrators across Iran. Up until now, 27 people are confirmed dead, but the total number is higher with details to be informed later. Nevertheless, people regained their uprising from early hours this morning for the third day in Tehran and other cities.
14 people were killed in Shahriar, seven people in Behbahan, and two in Baharestan square in Tehran. The rest of those killed fell in Sirjan, Shiraz, Marivan, Khorramshahr and …
Presenting condolences for the heroic martyrs of the uprising, Ms. Maryam Rajavi, President-elect of the Iranian Resistance, hailed the Iranian people in their uprising all over Iran. She added that Khamenei and his gang try in vain to keep their hold on power through such inhuman crimes. The religious dictatorship in power in Iran that has been committing crimes against humanity during 40 years should be discarded from the community of nations. UN Security Council, UN Secretary-General, UN Human Rights Council, UN High Commissionaire for Human Rights and other related international bodies and entities in defense of Human Rights should strongly condemn this regime and take appropriate decisions in this regard.
Secretariat of the National Council of Resistance of Iran
November 17, 2019