Uprising spreads to 107 cities, 61 killed in 10 cities, actual number higher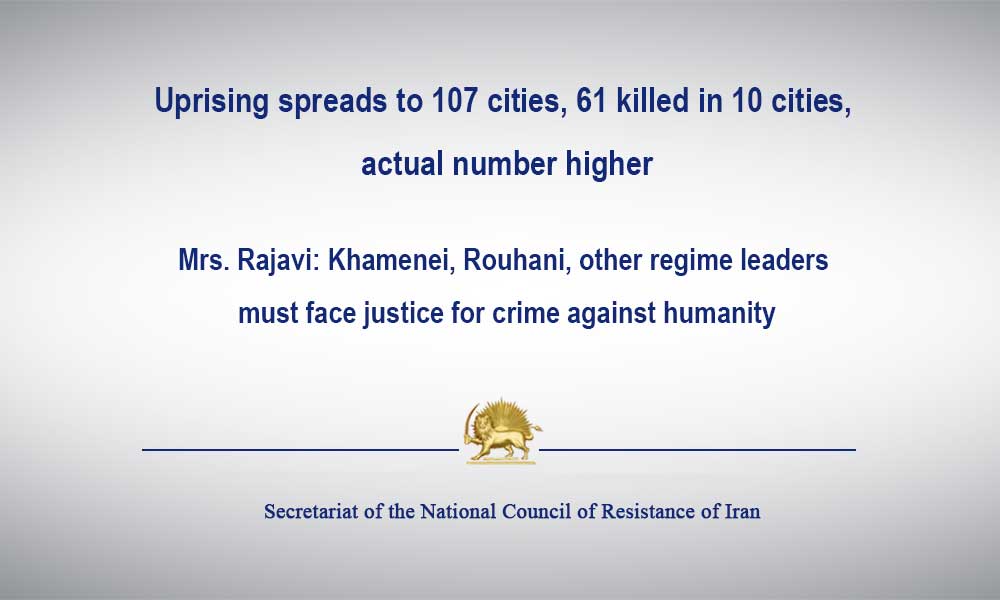 The regime's supreme leader Ali Khamenei, has ordered the Revolutionary Guards and other suppressive forces to open fire on the demonstrations in different cities. The number of those killed keeps rising. The regime has also cut off the Internet completely to conceal the scope of the uprising and the scale of it brutality.
The People's Mojahedin Organization of Iran has recorded the martyrdom of 61 protesters killed in 10 cities by the suppressive forces. The actual number is much higher. These figures are mostly for November 16. In some cities, such as Shiraz and Kermanshah many have lost their lives on November 16 and 17, but are not included here.
So far, 19 protesters have been killed in Karaj (west of Tehran) and neighboring regions, 14 in Shahriar (south of Tehran), seven in Behbahan (southwest), five each in Khorramshahr (southwest) Marivan (northwest) and Isfahan (center), two each in Javanroud (west) and Baharestan district of Tehran, and one each in Zargan in Ahvaz (southwest) and Sirjan (south).
Protests and demonstrations have continued for the third day running, spreading to 107 cities and nearly all 31 provinces.
Mrs. Maryam Rajavi, the President-elect of the National Council of Resistance of Iran (NCRI) offered her condolences to the families of the proud martyrs of the uprising, noting that such unjust shedding of blood only adds to the resolve of the Iranian people to continue their rightful resistance to overthrow the mullahs' regime.
Mrs. Rajavi added that the regime atrocities during the past three days are undoubtedly a manifest case of crime against humanity. Those responsible have in the past four decades continued to perpetrate crimes against humanity, including 120,000 political executions, and the massacre of 30,000 defenseless prisoners in 1988. This regime must be banished from the international community and Khamenei, Rouhani, and other regime leaders must face justice for committing crime against humanity.
Secretariat of the National Council of Resistance of Iran
November 18, 2019