Maryam Rajavi Meets Rudy Giuliani in Albania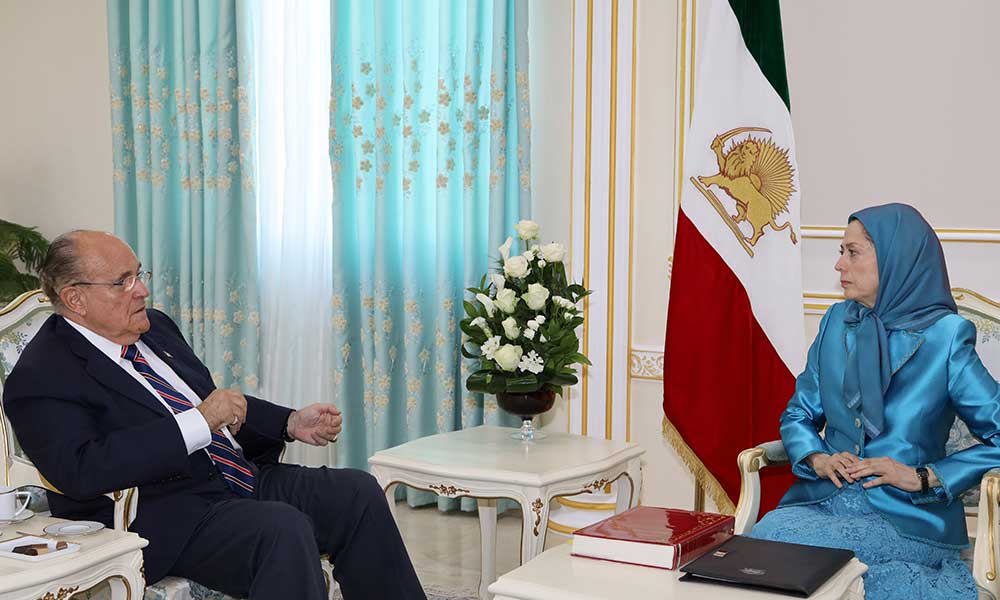 Thursday, July 11, 2019 – Maryam Rajavi, the President-elect of the National Council of Resistance of Iran, met today with Rudy Giuliani, President Trump's personal attorney. The meeting took place at Ashraf-3 home to the Iranian Resistance in Albania.
They discussed the latest developments in Iran and the region including the continuing anti-regime protests across the country, the regime's vulnerable state and its malign activities in the Middle East region.
Mrs. Rajavi reiterated that the Iranian regime faces an explosive society, an organized resistance movement and a different international environment. "As a result of the expansion of the Resistance units and their activities nationwide coupled with the regime's inability to address any of the underlying problems facing Iranian people, the prospect for overthrowing this regime has never been brighter," she said, adding, "it is time for the world community to recognize the rightful demand of the Iranian people to topple the ruling religious dictatorship."
Recalling that the U.S. President and Secretary of State have repeatedly declared this is a corrupt regime and the people of Iran have been its longest suffering victims, Mayor Giuliani emphasized that America stands on the side of the Iranian people and supports their struggle for freedom.
Mayor Giuliani said that there is viable alternative to the Iranian regime embodied in the National Council of Resistance of Iran (NCRI), pointing to the ten-point plan of the NCRI for the future of Iran as a guarantee for freedom, democracy and human rights in a post-theocracy Iran. Praising Mrs. Rajavi's leadership, Mr. Giuliani said, "The Iranian Resistance is unrivaled in its ability to overthrow the religious tyranny ruling Iran and to bring that great nation into the fold of the civilized world."
Mr. Giuliani added, "The development of Ashraf 3 in such a short period of time is astonishing and only shows the impressive ability of the MEK to rebuild Iran which has been destroyed by this regime."