Using fuel oil (Mazut) in IRGC and Khamenei-affiliated foundations, power plants and heavy industries, main cause of air pollution in metropolitan cities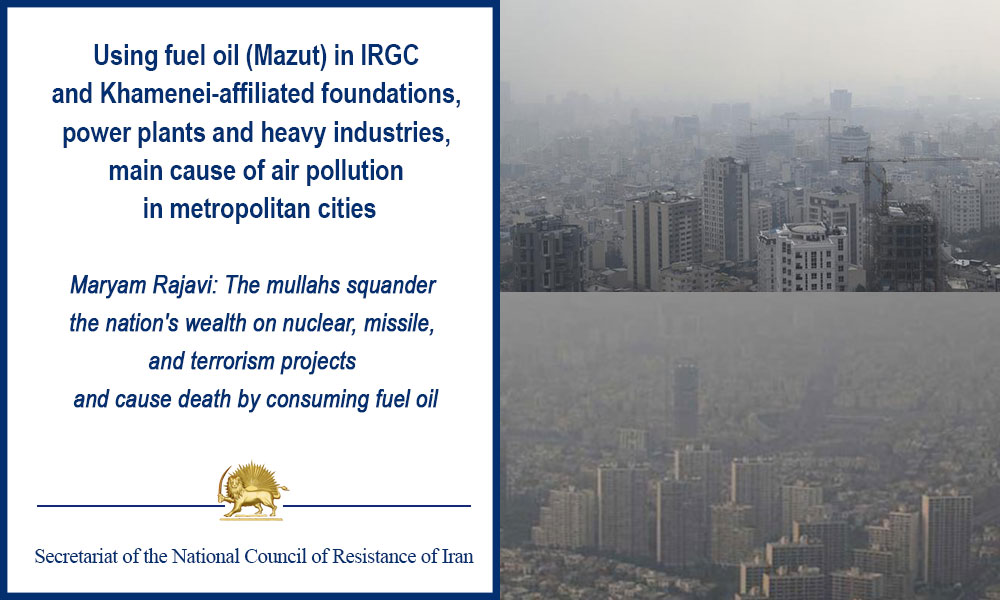 Mrs. Maryam Rajavi: The mullahs squander the nation's wealth on nuclear, missile, and terrorism projects and cause death by consuming fuel oil. They only care about the survival of the system, and the lives and health of the people are worthless to them
Air pollution in Tehran and other major cities has reached a dangerous level, which regime experts say increases the COVID-19 death rate six-fold. Owing to its criminal policies, which among other things, have resulted in plundering people's wealth, the clerical regime has not set any limits on sources of pollution and is unwilling to shut down major cities temporarily.
1. "Mazut and diesel pollution increase COVID-19 mortality six-fold," said Isa Kalantari, head of the regime's Environmental Protection Agency, according to Khabar-Fori state-run news-site, January 2, 2021. In cities such as Tehran, Karaj, Mashhad, Tabriz, Isfahan, and Qazvin, power plants should not use Mazut at all," he added. Mohammad-Ali Mohseni-Bandpay, a member of the regime's parliamentary health commission, told ISNA, yesterday, "This year, due to Coronavirus, the issue of air pollution should be given more serious attention, because people who have lung disease are at a greater risk than ordinary people, after contracting the Coronavirus, the government should lock down Tehran when the weather conditions reach dangerous levels."
2. Regarding air pollution dimensions, government reports leave no doubt that pollution in large cities is dangerous for everyone. According to Tasnim news agency, "The Meteorological Organization announced today that the air in many industrial and densely populated cities of Iran, especially in Tehran, Isfahan, Karaj, Qom, Arak, Qazvin, Tabriz, and Mashhad, is highly polluted and "very unhealthy" for all age groups." According to state-run Telegram Breaking News yesterday, "The air pollution index in the center of Tehran has reached the incredible figure of 500. An index of 151 to 200 is unhealthy weather for all groups, 201 to 300 is very unhealthy weather, and 301 to 500 is considered dangerous."
3. The main cause of this dangerous air pollution is the consumption of Mazut (fuel oil or black oil) in power plants and major industries. Speaking to Hamdely daily, Isa Kalantari said yesterday, "The quality of diesel used in the country has decreased, and at the same time, heavy industries are burning fuel oil, contrary to the 'Clean Air Act' and without the approval of the National Coronavirus Combat Taskforce (NCCT). The Deputy Attorney General has issued a statement to the provinces instructing them not to prevent the use of fuel oil … that is, the authority which must implement the Clean Air Act has concluded from a security point of view that this fuel oil must be used."
4. As usual, the regime is trying to put the blame for air pollution on the people and a result of traffic, a tactic used to justify its incompetence in dealing with the COVID-19 outbreak. Bijan Zanganeh, regime's Oil Minister, told the State TV on December 31, 2020, "I do not want fuel oil to be consumed, but we have no choice … If electricity consumption could decrease, fuel oil consumption should also decrease, and all considerations on how to reduce gas consumption giving priority to electricity must also be implemented." However, regime experts state that "the rise in CO2 in the city is not due to vehicles, but due to stationary sources," i.e., power plants and heavy industries.
The state-run daily, Etemad also wrote that due to the (COVID-19 curfew) and the ban on night traffic that resulted in the decrease in traffic, authorities have acknowledged that "stationary pollutants and not mobile ones are the main cause of air pollution in Isfahan. Polluting industries should have left the city, but unfortunately, due to the structure of the state economy, not only were they not relocated outside the city, but also their development plans are in process."
5. Instead of using fuel gas, the clerical regime has turned Mazut into the primary fuel for major and heavy industries and power plants, which are mainly under the control of the Revolutionary Guards and the institutions controlled by Khamenei's office. The fuel oil obtained during the refining of crude oil is the cheapest fuel, and by using it, the clerical regime makes huge profits that fills the coffers of the Revolutionary Guards and Khamenei.
Mrs. Maryam Rajavi, the President-elect of the National Council of Resistance of Iran (NCRI), said that on the one hand, the inhuman clerical regime squanders the Iranian people's wealth on the unpatriotic nuclear, missile, and terrorism projects. On the other hand, it kills people through the consumption of fuel oil. The mullahs' only concern is to preserve their regime. For them, the lives, health, and well-being of the people are worthless. As long as this regime is in power, there will be no attempt to buy vaccines, no clean air, and no solutions to contain the damage caused by floods and earthquakes.
Secretariat of the National Council of Resistance of Iran (NCRI)
January 4, 2021