Iranian regime's lies and deception about atomic projects after nuclear deal bear out Maryam Rajavi's warnings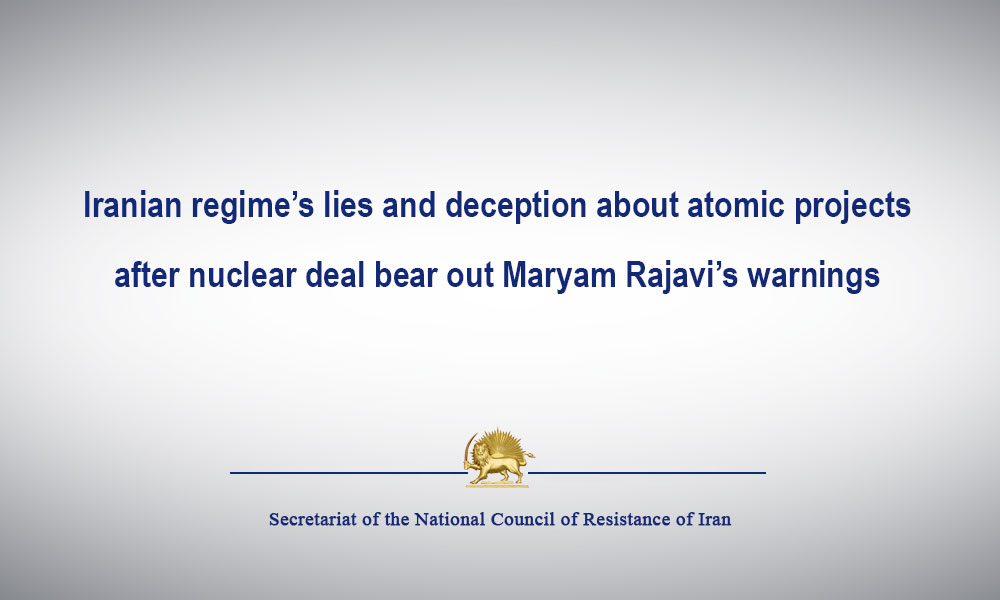 In an interview with a state TV station, he said: "The tubes that the fuel goes through, we had bought similar tubes previously, but I could not declare them at the time; only one person knew about it in Iran…. Only the highest authority of the regime (Supreme Leader Ali Khamenei) was aware of this, and no one else … His Holiness said, 'You should be careful about these people [P5+1)]. They are not trustworthy and won't keep their promises.'… " (Channel 4 State TV, January 22, 2019).
On Wednesday, January 30th, Salehi told the state news agency, IRNA: "We had some replacement parts and bought more; these were not restricted. There was no need to announce that we had replacement tubes." He went on to explain that the secret dealings and breaches of the agreement were carried out on the orders of Supreme Leader Khamenei: "We had to be alert and calculate the process of possible return. In other words, we should not burn our bridges behind us."
His remarks reveal that the regime's intentions in the nuclear negotiations with the P5+1 were essentially falsification and concealment, and had no purpose other than increasing its opportunities to acquire a nuclear bomb.
Immediately after the agreement on July 14, 2015, Maryam Rajavi warned: "This agreement does not close the mullahs' path to deception and access to a nuclear bomb." Prior to that, on November 24, 2013, she cautioned: "Any leniency, hesitancy, or concessions by the international community will prompt Khamenei to once again move toward production through deception and cheating."
In his book National Security and Nuclear Diplomacy, the clerical regime's president, Hassan Rouhani, wrote: "In 2002, events were going forward in a calm atmosphere, but the Mojahedin [PMOI/MEK] suddenly raised a clamor with false accusations… Our Atomic Energy Organization had wanted to … notify the IAEA with a fait accompli." On March 5, 2006, the Sunday Telegraph wrote that in a public speech, Rouhani had "revealed how Teheran played for time and tried to dupe the West after its secret nuclear programme was uncovered by the Iranian opposition in 2002."
Foreign Affairs Committee of the National Council of Resistance of Iran
30 January 2019