Condolences to the bereaved people of Tehran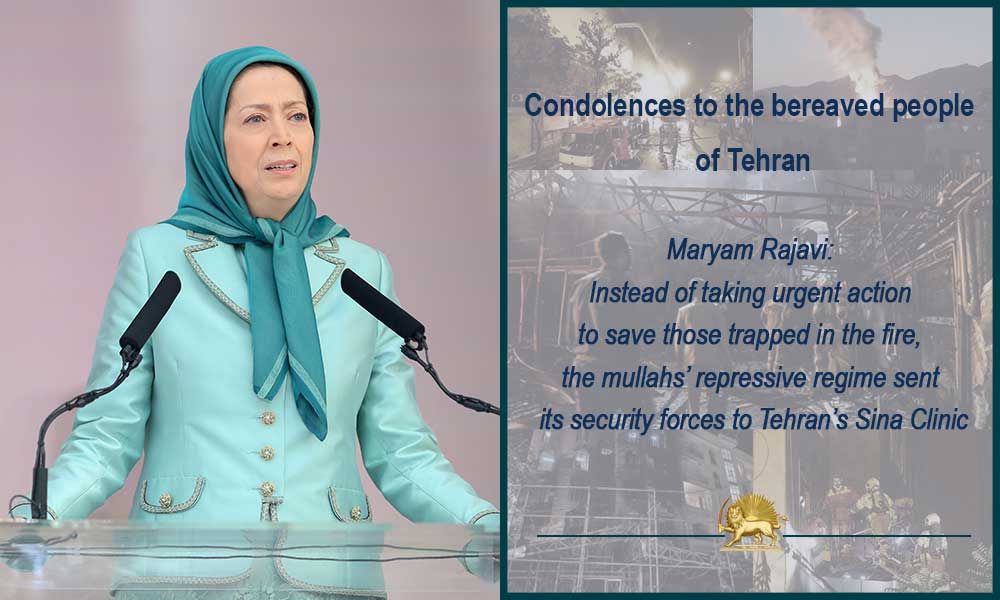 Maryam Rajavi: Instead of taking urgent action to save those trapped in the fire, the mullahs' repressive regime sent its security forces to Tehran's Sina Clinic
My deepest sympathies go out to the families and survivors of the victims, particularly the patients, who lost their lives in the catastrophic fire in Tehran's Sina Clinic. My condolences to all the people of Tehran over this harrowing loss of lives. I wish quick recovery for all those injured and hurt in this tragic incident.
The harrowing images of women who were stuck in the fire and breaking the windows with empty hands are truly moving.
The mullahs' repressive regime, instead of taking urgent action to save those trapped in fire, sent its security forces and intelligence agents to the site to prevent and quell the eruption of any protest by those afflicted.
Under the rule of these turbaned vultures, Iran is always mourning because the nation is hit by some form of disaster every day from the tens of thousands who lost their lives due to the coronavirus, to the young people who lost their lives fighting fires in burning forests, and to the incessant hanging, executions and torture.
This and other similar tragic incidents are preventable. The damages and destruction caused by floods and earthquakes as well as the ongoing forest and environmental fires indicate an enormously chaotic situation within the decadent clerical regime in its entirety. The mullahs and their IRGC mercenaries have plundered the nation's wealth to the extent that they have left no room for reliable technical and professional services and reinforcing the infrastructures.
The clerical regime's crimes, depravity, incompetence and corruption can be terminated only through the force of popular revolts and uprisings to overthrow the mullahs' religious dictatorship and replace it with popular sovereignty and democracy.