Maryam Rajavi calls on the international community to halt Iran regime's crimes against humanity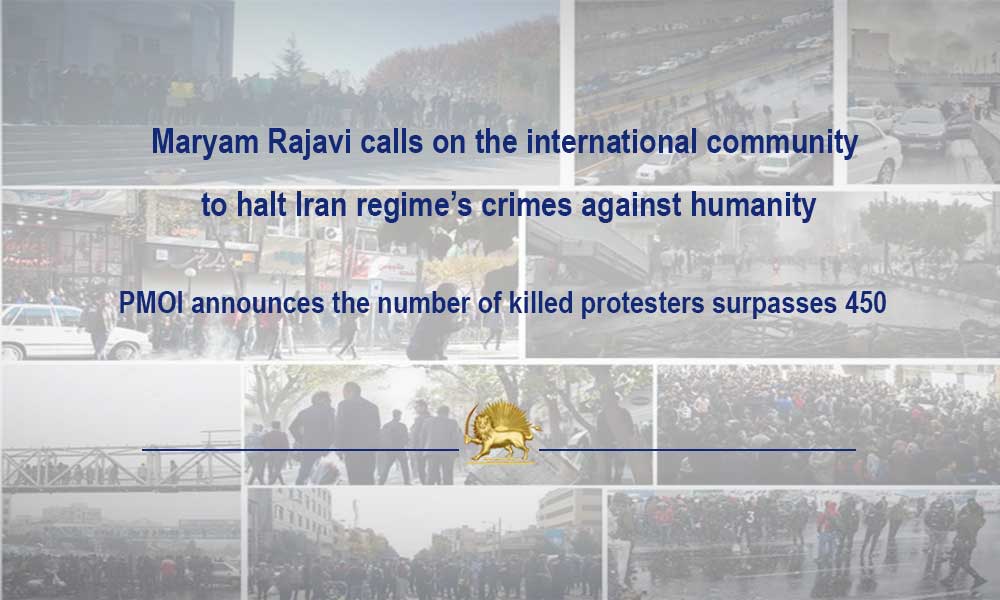 The People's Mojahedin Organization of Iran (PMOI/MEK) announced that the number of those killed during the Iranian people's nationwide uprising that engulfed 176 cities has surpassed 450. The actual figure is higher. But the regime is desperately trying to conceal the true dimensions of its horrific crimes, using different tactics such as cutting off the Internet and refusing to hand over the bodies of those killed to their families, or preventing funerals for them.
The wave of arrests is continuing. Tehran's prisons, including Evin and Fashafouyeh are overflowing with detainees and facing severe space shortage. In many cities, the detainees are being held in grade or high schools and government buildings. At the same time, the regime's Judiciary officials in various provinces such as Tehran, Khuzestan and Fars are speaking of holding special courts for those arrested. Speaking at Tehran's Friday prayer Congregation on November 22, Ahmad Khatami, a member of the Assembly of Experts' Presidium, described those arrested as saboteurs who have waged war on God. He demanded that the Judiciary give them maximum punishment. Previously, Khamenei's mouthpiece, the daily Kayhan, wrote on November 18, "Judicial bodies say execution by hanging for the leaders of the recent riot are certain."
The killing of the protesters is a manifest case of crime against humanity. The world community must take urgent action to immediately halt the murder and suppression of the protesters. The United Nations must quickly dispatch fact-finding missions to Iran. The regime leaders must face justice for perpetrating crimes against humanity. Silence and inaction are both a violation of international conventions, laws and standards, and embolden the regime to continue its crimes and expand them to the region.