Over 1,500 killed in the Iranian people's nationwide uprising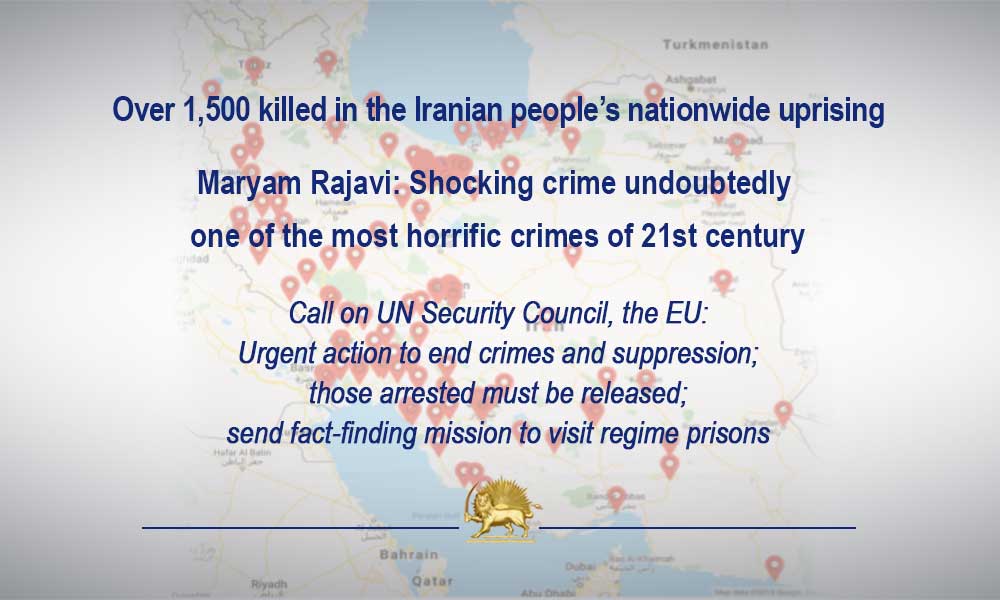 The People's Mojahedin Organization of Iran (PMOI/MEK) confirmed that over 1,500 protesters have been killed during the Iranian people's nationwide uprising in different provinces across the country. At least 400 have been killed in Tehran, 320 in Kermanshah, 270 in Fars, 240 in Khuzestan, 120 in Isfahan, and 100 in Alborz (Karaj).
The PMOI also released the names of 28 more martyrs of the uprising, bringing to 504 the number of those killed in 56 cities. According to eyewitnesses, hundreds of bodies were taken to Namazi hospital in Shiraz during the uprising. These have not been included in the death toll and are being investigated.
The Iranian regime has remained silent and is trying to conceal the facts. One month after the nationwide uprising, the clerical regime, fearing the domestic and international consequences of its crime against humanity, is doing its utmost to hide the number of martyrs and their names as well as the number of those arrested and imprisoned. The suppressive forces refuse to hand over the bodies of those killed to their families. Many of those martyred were snatched from hospitals or streets and buried in unknown locations.
Maryam Rajavi: The regime still refuses to hand over the bodies of the martyrs and brazenly demands their families pay for the bullets with which it murdered their children. This shocking crime is undoubtedly one of the most horrific crimes of the 21st century and by any measure amounts to a manifest case of crimes against humanity. The international community must banish the religious fascism ruling Iran.
The United Nations Security Council and the European Union must take urgent action to stop the crackdown in Iran and crime against humanity and secure the release of those arrested. Once again, I urge the UN to establish an international fact-finding mission to investigate this major crime and visit the regime's prisons and the prisoners.