Iran: Terrified of popular uprising, regime resorts to executions in Ramadan to intimidate the public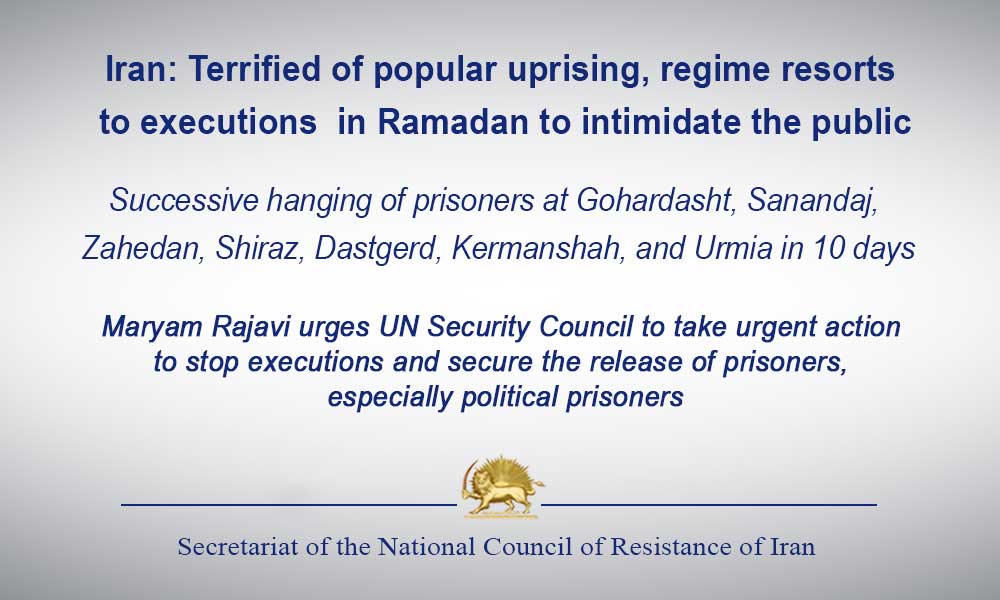 Successive hanging of prisoners at Gohardasht, Sanandaj, Zahedan, Shiraz, Dastgerd, Kermanshah, and Urmia in 10 days
Mrs. Rajavi urges UN Security Council to take urgent action to stop executions and secure the release of prisoners, especially political prisoners
While the situation in prisons in Iran with the Coronavirus outbreak grown direr as many prisoners, particularly political prisoners, have contracted the virus, the religious fascism ruling Iran, terrified of popular uprisings and to intimidate the public, has resorted to cruel and arbitrary daily executions in various parts of the country. These executions have continued even in the holy month of Ramadan.
Most of the political prisoners in ward four of Evin Prison have contracted Coronavirus and suffer from dry cough, fever, shivering and Diarrhea; still, the regime is neither releasing, nor quarantining, nor treating them. It has practically condemned them to death by attrition.
Since the beginning of Ordibehesht, the second month in the Persian calendar (April 20, 2020), scores of prisoners have been hanged. Only on Tuesday, April 28, 2020, the clerical regime hanged two prisoners in Urmia, one in Sanandaj, and another in Kermanshah.
Earlier, on April 23, seven prisoners in Gohardasht prison, two in Dastgerd-Isfahan, one in Kermanshah, and another in Shiraz were executed. The same day, five prisoners were hanged in Zahedan, Sanandaj, Tabriz, Khalkhal, and Shiraz. On April 24, two prisoners and on April 27, another prisoner, were hanged in Sanandaj. Shayan Saeedpour, a juvenile prisoner, 17 at the time of arrest, who had escaped during Saqqez Prison's rebellion on March 27, was executed on April 22.
Mrs. Maryam Rajavi, the President-elect of the National Council of Resistance of Iran (NCRI), again urged the international community, especially the Security Council, to act to stop the executions and secure the release of prisoners, particularly political prisoners. She added: Silence vis-à-vis the atrocities perpetrated in prisons by the clerical regime is tantamount to disregard for humanitarian principles for which humankind has offered millions of victims
Secretariat of the National Council of Resistance of Iran (NCRI)
April 29, 2020