Maryam Rajavi visits exhibition of 150 years of Iranian women's struggle for freedom and equality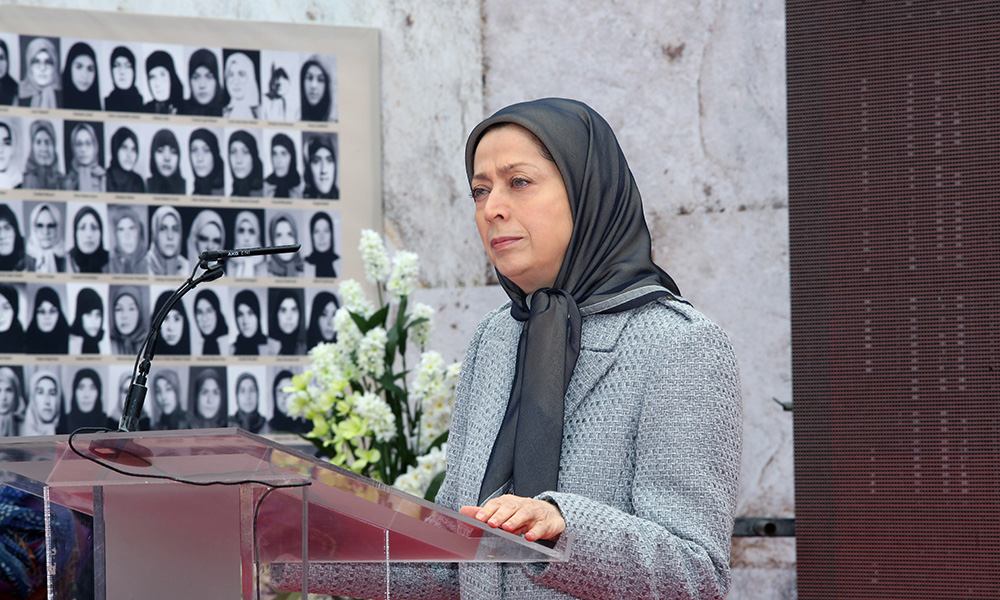 Simultaneous with the international conference on the occasion of the International Women's Day in Tirana, Albania, an elaborate photo exhibition was put on display on the history of 150 years of Iranian women's struggle for freedom.
After visiting the exhibition, Maryam Rajavi made brief remarks, lauding Iranian women's struggle. She paid tribute to the pioneering women who gave their lives for Iran's freedom and laid flowers at a monument dedicated to them.
In part of her remarks, Maryam Rajavi said:
I deeply appreciate everyone involved in preparation of this wonderful work which reminds us of the glorious moments of the long and tortuous path the women of Iran have paved over the years in confronting several dictatorships. This is the history of heroism of Iranian woman and of course, the history of her sufferings. Every one of these portraits bespeaks of a long history.
Look at the portrait of Tahereh Tolou who was stabbed in the heart by Khomeini's Revolutionary Guards. Then her body was cruelly left hanging from a tree at Charzebar pass. They never thought that one day this image would turn into a moving example that outrages every Iranian and every freedom-loving woman in the world.
Another example: the portrait of Neda Agha-Soltan who was killed in the streets of Tehran. An incident that shocked and moved the world. And the portraits of our dear sisters in Ashraf and Liberty who lost their lives in the missile attacks or were otherwise killed in face-to-face confrontations, especially the epic scene created by Zohreh and her companions.
All of these comprise our history. The history of our people's longstanding fight for freedom against tyranny and dictatorship. Of course, it is impossible to display this history in such a limited time and space.
And I would also like to stress that only a small part of the heroism of Iranian women has been reported or registered in history because the misogyny of dark-minded rulers does not allow the narration or description of women's bravery, courage and heroism. And the women's legacy we know of has been widely distorted or censored. So, we have been able to retrieve this much from among heavy distortions and censorship.
And again, only a small part of the bitterness, wounds and pains of our sisters' 150-year struggle in Iran has been presented here. Nevertheless, such partial presentation is telling of Iranian women's historical precedent and the ceaseless efforts they have been engaged in, openly or secretly, over these years.
I would like to speak at length of their struggles and sacrifices and of all the women who were tied to beds and flogged but staunchly resisted.
I just met a few representatives of imprisoned women and our dear sisters who are former political prisoners. They resisted in different prisons and torture chambers and continued their struggle up until today. One can see the impact of their revelations and their enlightening efforts in all arenas and in these limited portraits. I must say that all of what we have at hand today, including poems and novels, as well as any educational or scientific research, make up only a small portion of a rich and long history.
This shows that the Iranian people and women's desires today for freedom and equality against the ruling dictatorships, particularly against the velayat-e faqih regime, enjoy a long, rich and powerful backing. It shows how our women's struggle has evolved step by step, over all these years, until today when they play a pivotal role in the resistance of the people of Iran for freedom.
When you line up these portraits, it conveys this message: such endurance will definitely turn the page of history and Iranian women will topple the mullahs' regressive, medieval, warmongering and terrorist dictatorship. And the day of the Iranian people's freedom is not far.
Over these years, Iranian women have always chanted "death to the velayat-e faqih" and "long live freedom". Yes, this regime will certainly be overthrown by progressive women like you and a generation of emancipated men, and also with the support of Iran's freedom-loving women and men who will no longer tolerate the regime. The day of regime change is more imminent than ever.
That is the day when the people of Iran and the people of the region will be liberated from the clutches of the warmongering velaya-e faqih regime. It is then when peace and security are guaranteed in the world.
God bless you all!