'Butcher' linked to 30,000 deaths set to become new President of Iran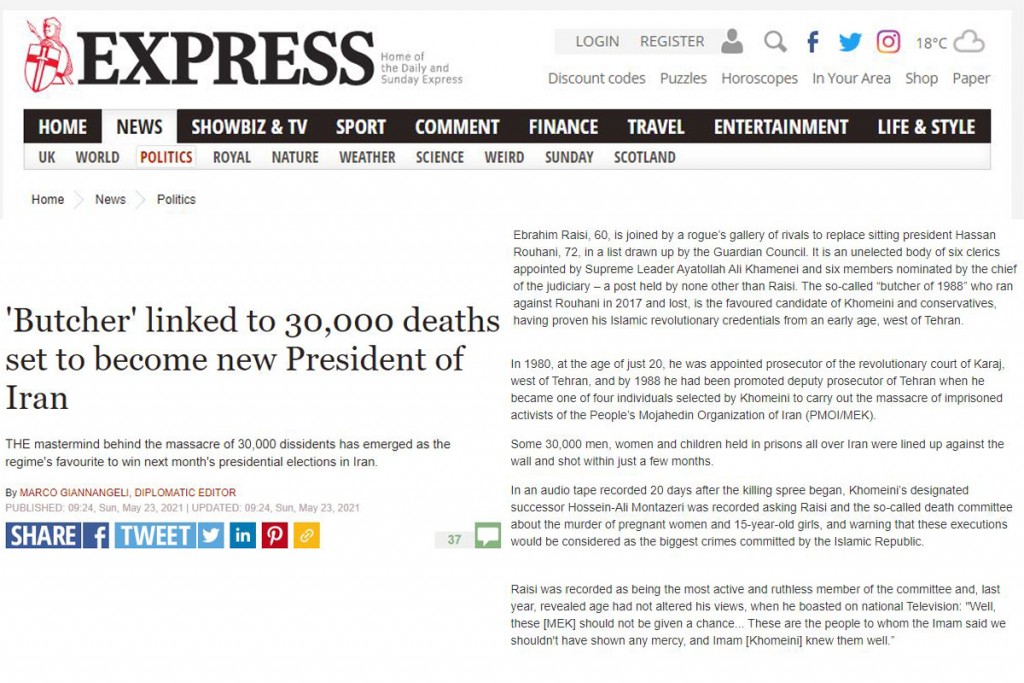 THE mastermind behind the massacre of 30,000 dissidents has emerged as the regime's favourite to win next month's presidential elections in Iran.
By MARCO GIANNANGELI, DIPLOMATIC EDITOR
09:24, Sun, May 23, 2021 Ebrahim Raisi, 60, is joined by a rogue's gallery of rivals to replace sitting president Hassan Rouhani, 72, in a list drawn up by the Guardian Council.
It is an unelected body of six clerics appointed by Supreme Leader Ayatollah Ali Khamenei and six members nominated by the chief of the judiciary – a post held by none other than Raisi.
The so-called "butcher of 1988" who ran against Rouhani in 2017 and lost, is the favoured candidate of Khomeini and conservatives, having proven his Islamic revolutionary credentials from an early age, west of Tehran. Ali Khamenei issues terrifying call to arms In 1980, at the age of just 20, he was appointed prosecutor of the revolutionary court of Karaj, west of Tehran, and by 1988 he had been promoted deputy prosecutor of Tehran when he became one of four individuals selected by Khomeini to carry out the massacre of imprisoned activists of the People's Mojahedin Organization of Iran (PMOI/MEK).
Some 30,000 men, women and children held in prisons all over Iran were lined up against the wall and shot within just a few months. In an audio tape recorded 20 days after the killing spree began, Khomeini's designated successor Hossein-Ali Montazeri was recorded asking Raisi and the so-called death committee about the murder of pregnant women and 15-year-old girls, and warning that these executions would be considered as the biggest crimes committed by the Islamic Republic.
Raisi was recorded as being the most active and ruthless member of the committee and, last year, revealed age had not altered his views, when he boasted on national Television: "Well, these [MEK] should not be given a chance…
These are the people to whom the Imam said we shouldn't have shown any mercy, and Imam [Khomeini] knew them well."
Also on the approved list candidates is Ali Ardeshir Larijani, a former Brigadier General with the infamous Islamic Revolutionary Guards Corps and implicated in the murder of high profile dissidents both in Iran and abroad before who rose through the ministerial ranks.
Ebrahim Raisi
Ebrahim Raisi is the regime's favourite to win
Nominally the reformist candidate, the former head of Iran's state broadcasting service established a number of Arab-language channels to disseminate propaganda and ideological indoctrination of Arab
youth, especially to Iraq and Lebanon.
He also used the broadcasting network to broadcast forced confessions of imprisoned dissidents and intimidation of the public and, later, as Minister of Culture and Islamic Guidance during Akbar Hashemi Rafsanjani's presidency in 1992 he played a key role in censorship of the media and cultural activities.
Last week a leaked top secret letter revealed that Iran's judiciary intends to restrict social-media access to election material including calls to boycott next month's vote.
Signed by Javad Javidnia, deputy head of the justice department in Tehran province, it asked managers of major telecommunication and cellular companies to carry out as quickly as possible "orders issued to filter cyberspace, including Instagram, Google Play, Virtual Private Networks (VPNs) and internet circumvention tools." VPNs and other anti-filtering tools circumvent filtering.
But last night political activists in Iran said calls to boycott the election would continue. "There is a different atmosphere here compared to four years ago. People have had enough.
The days when you could distinguish between reformers and fundamentalist are long gone. None of my friends and acquaintances would vote," said Farideh, a 25-year-old IT engineer in Tehran. This was echoed by Maryam Rajavi, president elect of the exiled opposition group National Council of Resistance of Iran. "Candidates for next month's election farce have participated in four decades of terrorism, crimes against humanity, genocide, war crimes, and plunder, and have no significant difference in espousing repression, terrorism, warmongering, and in pursuit of the nuclear weapons program," she said. "There is no difference between Ebrahim Raisi, the perpetrator of the 1988 massacre of 30,000 political prisoners, and Ali Larijani, the terrorist and architect of censorship and suppression, or other candidates."
https://www.express.co.uk/news/politics/1439984/iran-presidential-election-Ebrahim-Raisi-Hassan-Rouhani-latest