Maryam Rajavi meets Atifete Jahjaga, the former President of Kosovo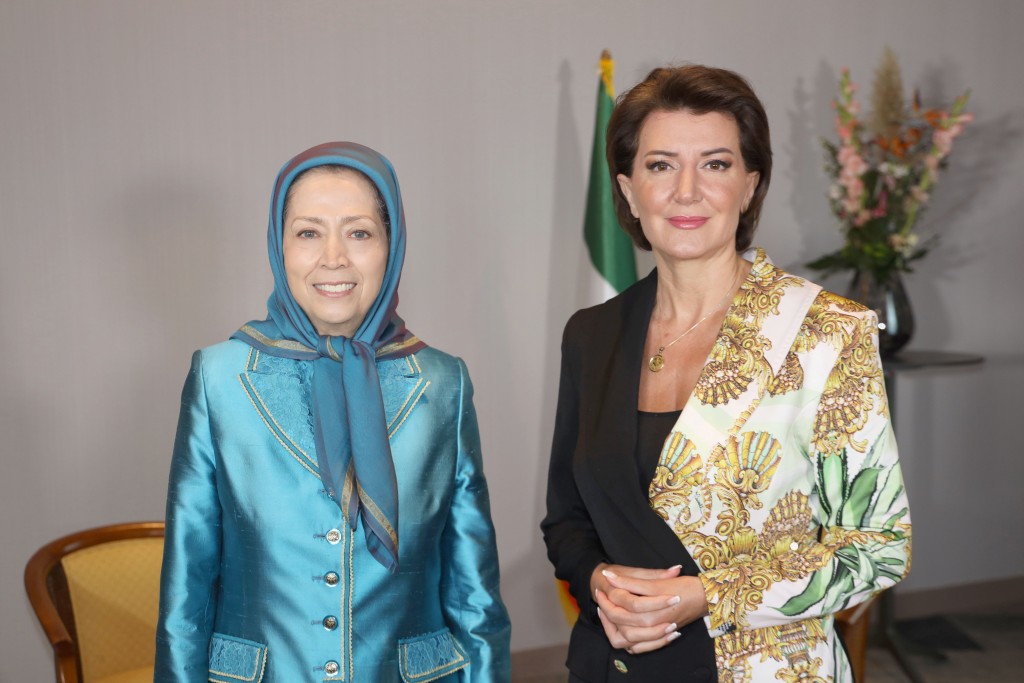 During her visit to Brussels to participate in the Iran Uprising Conference, Maryam Rajavi met with H.E. Atifete Yahjaga, who served as the President of Kosovo from 2011 to 2016. Mrs. Yahjaga was one of the speakers at the conference.
Ms. Yahjaga is immensely popular among the people of Kosovo and is the first woman to serve as president in the Balkans. She congratulated Mrs. Rajavi for her decades of unwavering commitment and efforts in the struggle to liberate her country. Ms. Yahjaga found Mrs. Rajavi's steadfast focus on her primary goal, which is establishing democracy in Iran, genuinely inspiring. She voiced her confidence that Mrs. Rajavi and her movement would ultimately prevail and achieve the desirable outcome they have been tirelessly pursuing along their challenging and arduous journey.
Ms. Yahjaga also acknowledged the struggles of the people of Kosovo in their quest for freedom, drawing parallels with the Liberation Movement of Kosovo.
The former Kosovan President further emphasized that the crimes committed by the Iranian regime should not be associated with Islam. She, being a Muslim herself, asserted that the actions of the Iranian regime do not represent the true essence of Islam. Ms. Yahjaga pointed out that the regime has exploited Islam to achieve its objectives.
Mrs. Rajavi expressed her gratitude to President Yahjaga, remarking, "I am confident that your people hold a deep appreciation for your dedicated efforts, both as a woman and a president. In our homeland, the Iranian people have endured over a century of struggles against monarchical and religious dictatorships, bearing a heavy cost for their pursuit of freedom. Their persistent uprisings demonstrate their unwavering determination to topple the oppressive and misogynistic regime of the mullahs. This regime is not only the enemy of Iran and its people but also represents a regional and global menace to peace."