Message on the 25th INTV Telethon, a Symbol of National Solidarity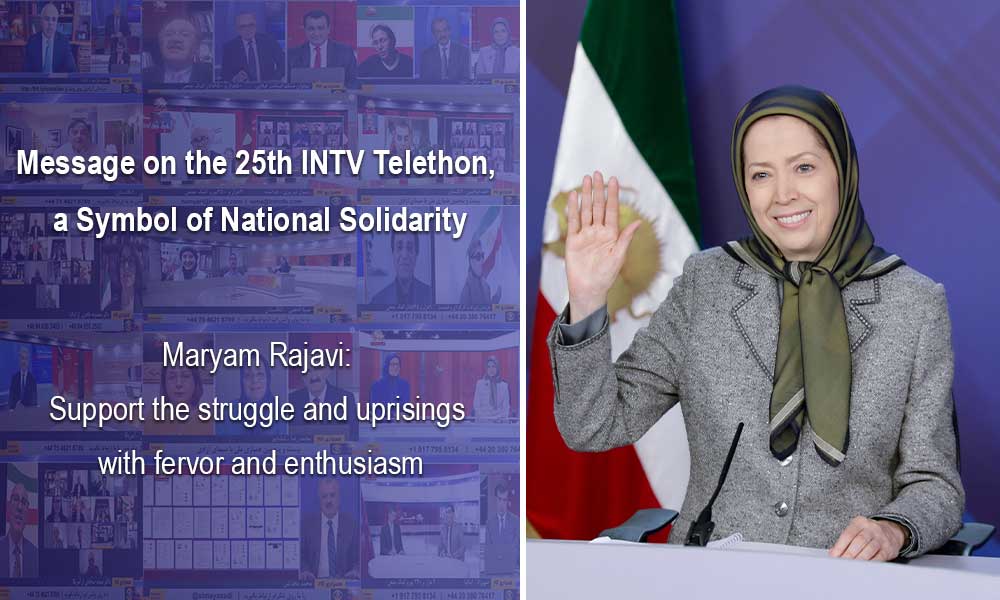 Maryam Rajavi: Support the struggle and uprisings with fervor and enthusiasm
Once I dedicated myself to freedom
I chose to risk my life for freedom
Congratulations and compliments on the shining galaxy of solidarity, spearheaded by people inside Iran, in Shiraz, Tehran, Isfahan, Mashhad, Oroumieh, Behbahan, Qom, Qahdrijan, Rasht, and Karaj, and sustained by the long columns of activists across the world. Together, they formed an arrow released from the bow of Iran's legendary hero Arash, tearing through the darkness and gloom of the mullahs' coronavirus, and cultivating light and brightness everywhere.
An ocean of greetings to the Iranian people and rebels. Despite their poverty, and a multitude of challenges, illnesses, air pollution, and all the criminal activities of Khamenei's velayat-e faqih (absolute clerical rule), coupled with the spread of the coronavirus, and the Iranian regime's anti-Iranian and inhumane policies and medieval suppression, these compatriots united and rose up for freedom with resolve and passion in order to overthrow the evil ogre of velayat-e faqih.
Beyond the numbers and figures of financial support during the telethon, the boundless reserve of your compassion, heartfelt emotions, resolve and perseverance shone ever so brightly and epitomized sincerity, fraternity, love and the fiery tenacity of a united and determined people to bring about freedom to the enchained nation of Iran.
Indeed, no challenge or storm has the wherewithal to confront the vanguards of freedom.
We bear the responsibility to bring freedom; all that is left for us to do is to muster the strength and resolve to do so.
You will undoubtedly triumph. The blind-hearted cannot see that today a whole nation has risen up to struggle and fight for freedom.
Resistance Units and the rebellious youth towards victory
Let me address the young and progressive generation of Iranians. The torch of freedom has been passed on to successive generations through centuries, overcoming difficulties and all the associated ebbs and flows in the course of a long struggle filled with suffering against the Shah and the mullahs. That torch of freedom has now been passed onto you. That is a great honor, which must be materialized in its ultimate destination through the struggle waged by you, the Resistance Units and the rebellious youth in the context of the Army of Freedom.
The gift of freedom has been entrusted to you to pass on to future generations.
So, support the struggle and uprisings with fervor, enthusiasm and a revolutionary spirit.
An entire nation is looking up to you, an impoverished and suppressed nation that does not have enough to eat, one that is reeling under the rule of the criminal mullahs, is grappling with illness, and struggling against air pollution and lack of access to clean water. They have set their gazes on your determination and struggle for freedom.
Be certain, be certain that when you rise up one column after another, you will be able to bring down the evil rulers of our time and you will write the bright chapter of Iran's future.