Opponents Hail Boycott Of Iran Vote Won By 'Rights Violator'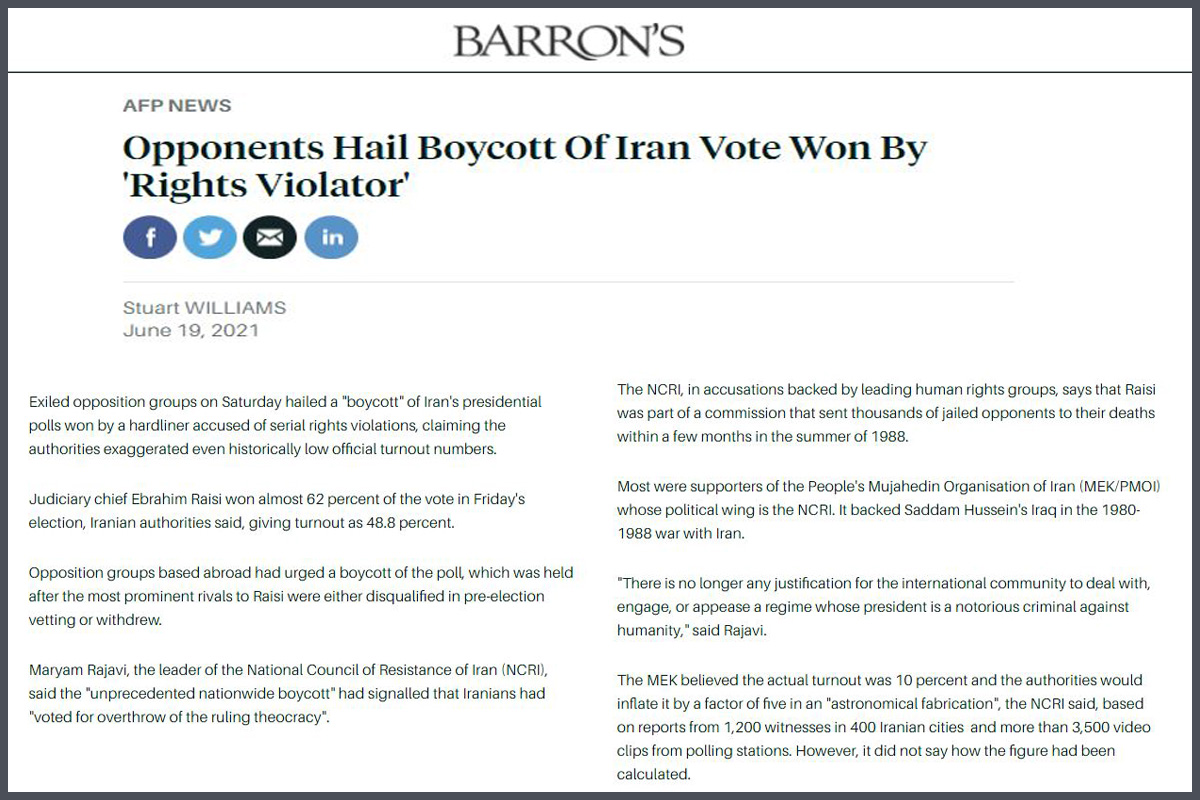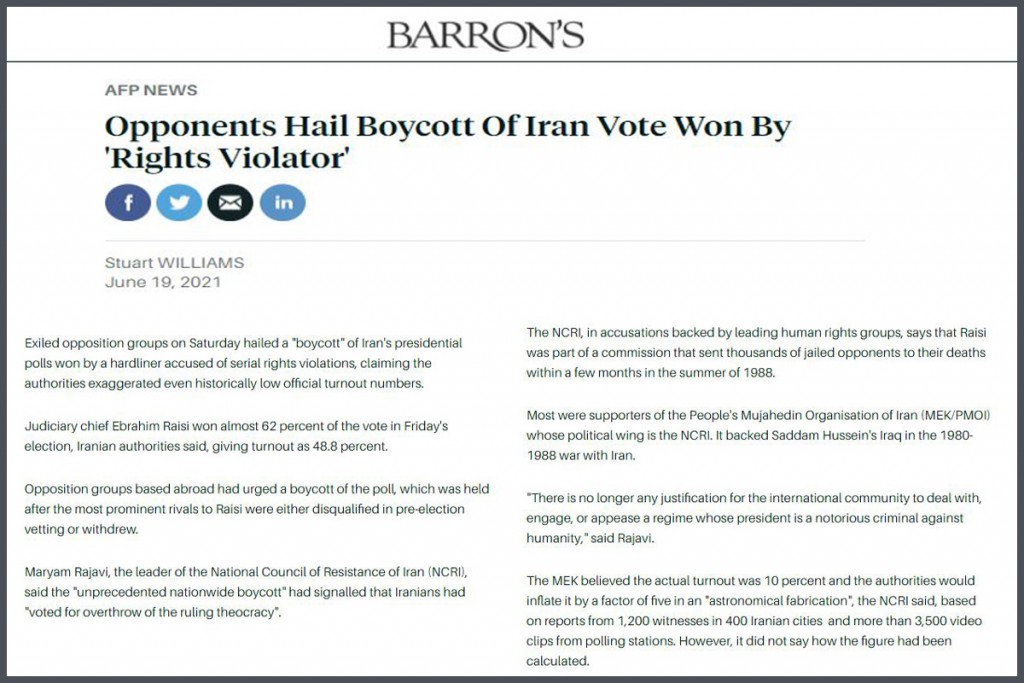 Stuart WILLIAMS
June 19, 2021
Exiled opposition groups on Saturday hailed a "boycott" of Iran's presidential polls won by a hardliner accused of serial rights violations, claiming the authorities exaggerated even historically low official turnout numbers.
Judiciary chief Ebrahim Raisi won almost 62 percent of the vote in Friday's election, Iranian authorities said, giving turnout as 48.8 percent.
Opposition groups based abroad had urged a boycott of the poll, which was held after the most prominent rivals to Raisi were either disqualified in pre-election vetting or withdrew.
Maryam Rajavi, the leader of the National Council of Resistance of Iran (NCRI), said the "unprecedented nationwide boycott" had signalled that Iranians had "voted for overthrow of the ruling theocracy".
The NCRI, in accusations backed by leading human rights groups, says that Raisi was part of a commission that sent thousands of jailed opponents to their deaths within a few months in the summer of 1988.
Most were supporters of the People's Mujahedin Organisation of Iran (MEK/PMOI) whose political wing is the NCRI. It backed Saddam Hussein's Iraq in the 1980-1988 war with Iran.
"There is no longer any justification for the international community to deal with, engage, or appease a regime whose president is a notorious criminal against humanity," said Rajavi.
The MEK believed the actual turnout was 10 percent and the authorities would inflate it by a factor of five in an "astronomical fabrication", the NCRI said, based on reports from 1,200 witnesses in 400 Iranian cities and more than 3,500 video clips from polling stations. However, it did not say how the figure had been calculated.
Khamenei however hailed the election as a victory "in the face of the propaganda of the enemy's mercenary media.
Hadi Ghaemi, executive director of the New York-based Center for Human Rights in Iran (CHRI), said that after a poll that was "not an election (but a) selection", Raisi should not be absolved of his "long record of gross human rights violations."
Describing him as a "major rights violator", he added that as well as the 1988 killings, in two years as overall judiciary chief he "has been responsible for countless, severe violations of citizens' rights".
Amnesty International said Raisi had "presided over a spiralling crackdown on human rights" while serving as judiciary chief for
the past two years and should be investigated for the 1988 killings.
In an assertion echoed in 2020 by UN special rapporteurs, Amnesty in 2018 described the 1988 killings as crimes against humanity. "That Ebrahim Raisi has risen to the presidency instead of being investigated for the crimes against humanity of murder, enforced disappearance and torture, is a grim reminder that impunity reigns
supreme in Iran," said its Secretary General Agnes Callamard. She called on the UN Human Rights Council to address this "crisis of systematic impunity in Iran" by stablishing an "impartial mechanism" to investigate the crimes.
https://www.barrons.com/amp/news/exiled-opposition-hails-boycott-of-iran-vote-01624105806