Iran: Defrauded investors stage protests in Tehran, Mashhad, Isfahan, and Tabriz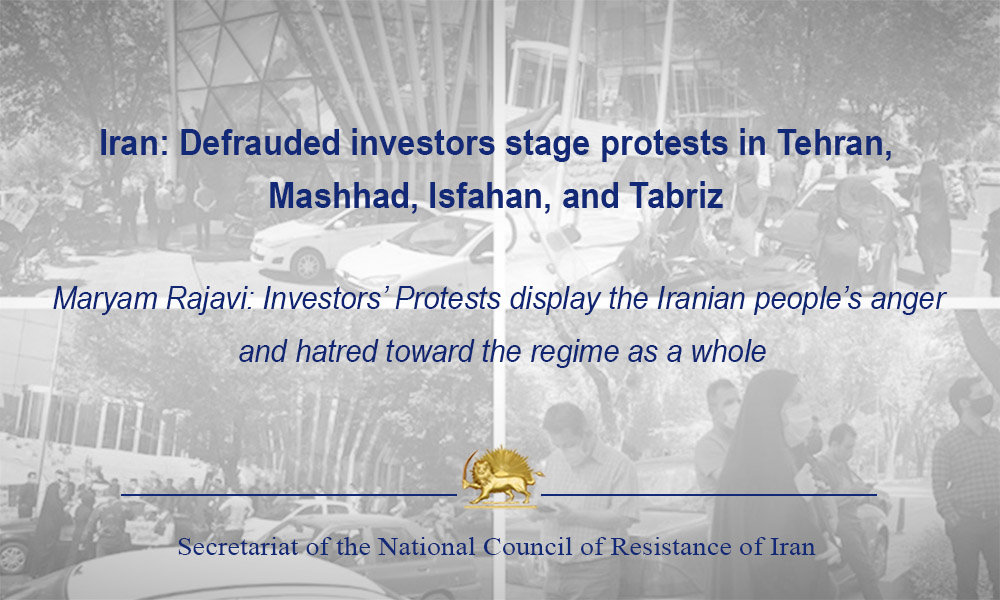 Mrs. Maryam Rajavi: Investors' Protests display the Iranian people's anger and hatred toward the regime as a whole
Today, April 21, 2021, hundreds of defrauded investors, whose property and savings had been plundered by the clerical regime's stock market gambit, protested and marched in Tehran, Mashhad, Isfahan, and Tabriz, chanting slogans against the regime's Supreme Leader Ali Khamenei, Hassan Rouhani, Judiciary Chief Ebrahim Raisi, and the parliament. They called for the boycott of the mullahs' sham presidential election.
The defrauded investors gathered in front of the Stock Exchange building in Tehran and blocked the street. In Mashhad, protesters marched and gathered in front of the governor's office. In Isfahan, protesters gathered in front of the Exchange Organization in Chaharbagh street.
The protesters chanted: "Death to Rouhani," "Government betrays, the Leader supports," "Oh you Khamenei, is stealing OK?" "Khamenei, our livelihood is up in the air," "Stealing from the nation's pocket, while the Supreme Leader keeps silent," "Shameless Rouhani must be executed," "We will not vote, we have heard too many lies," "We will not vote, we have not seen any justice," "We will fight, we will die, and will get our country back," and "I will not live under suppression, and will sacrifice my life for freedom if needed." Some demonstrators carried placards reading, "Rouhani, reviving the stock market is more important than reviving the JCPOA."
In his speech at the parliament, Alireza Beigi, a deputy from Tabriz, called out Rouhani: "The Iranian people no longer trust you … There is no clearer reason for this lack of trust than 50 million Iranians losing their lifesavings in the stock market under your watch. You are clearly at fault, which has prompted many people, who seek revenge, to join the ranks of the opponents of the Islamic Republic of Iran."
Mrs. Maryam Rajavi, the President-elect of the National Council of Resistance of Iran (NCRI), saluted the protesting compatriots in Tehran, Mashhad, Isfahan, and Tabriz. She said: The protests by the pillaged protesters and their slogans against the corrupt regime leaders display the cries of protests by all Iranians against the entirety of the regime. She emphasized that as long as the religious dictatorship remains in power, plundering, state corruption, poverty, inflation, and unemployment will continue to increase. She called on the youth to show solidarity and support the defrauded investors' protests.
Secretariat of the National Council of Resistance of Iran (NCRI)
April 21, 2021