Maryam Rajavi WELCOMES THE STANCES ADOPTED AT THE CONFERENCE IN RIYADH "The ultimate solution to the regional crisis lies in the overthrow of the Velayat-e Faqih regime in Iran"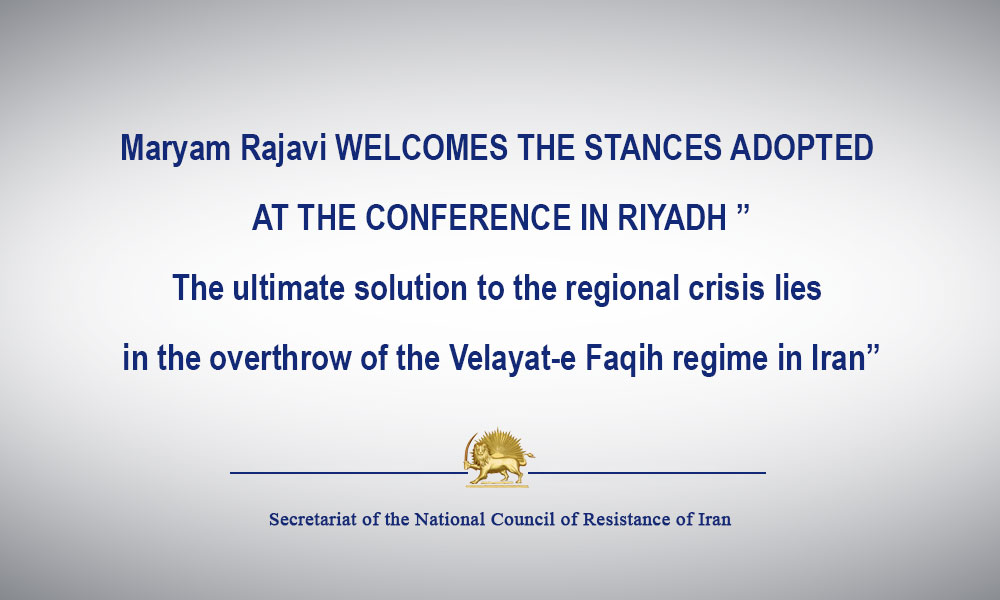 She emphasized in particular the statement regarding the need to confront the clerical regime's export of terrorism and fundamentalism, its ballistic missile program, its interference in the internal affairs of other countries, as well as its destructive regional and international role. She described the stances as indispensable to ending terrorism, war, and bloodshed, and restoring peace and tranquility.
Maryam Rajavi reiterated that the censure of the clerical regime's actions and crimes must be pursued and realized through practical measures, specifically by severing ties with the ruling theocracy, expelling it from international organizations, designating the Islamic Revolutionary Guards Corps (IRGC) as well as other military, paramilitary and security forces affiliated with the regime as terrorist organizations, and expelling them from the region.
Underscoring the need for the immediate referral of the Iranian regime's appalling human rights abuses and massacre of political prisoners to the UN Security Council and International Criminal Court, Maryam Rajavi noted that in his address to the conference, the President of the United States was correct in stating, "The Iranian regime's longest-suffering victims are its own people." She also cited the remarks by King Salman of Saudi Arabia, in which the Custodian of the Two Holy Mosques expressed his "respect and appreciation" for the Iranian people, adding, "The Iranian regime has spearheaded global terrorism since the Khomeini revolution until now."
Maryam Rajavi emphasized, "The ultimate solution to the crisis engulfing the whole region is the overthrow of the velayat-e faqih regime by the Iranian people and Resistance. Replacing the mullahs' rule with freedom and popular sovereignty is the desire of all the people of Iran, who have sacrificed 120,000 of their children to achieve it. Recognizing this demand is the prerequisite to peace and tranquility in the Middle East region and to international security."
The Secretariat of the National Council of Resistance of Iran
May 22, 2017