Following the IAEA report and its Director General's remarks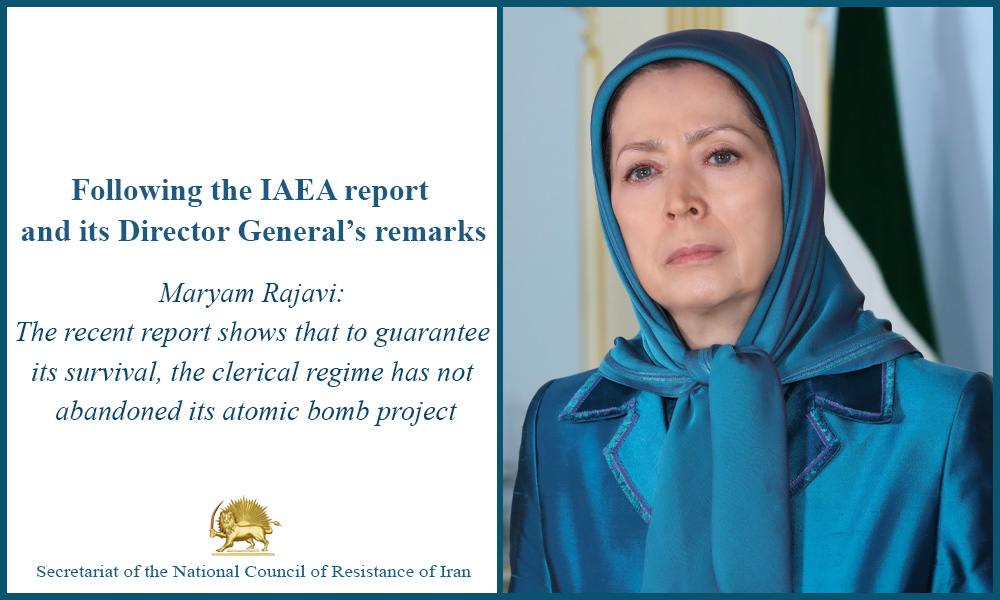 Maryam Rajavi: The recent report shows that to guarantee its survival, the clerical regime has not abandoned its atomic bomb project
Maryam Rajavi said that the recent report of the International Atomic Energy Agency (IAEA) and the remarks by its Director-General once again show that to guarantee its survival, the clerical regime has not abandoned its atomic bomb project. It also shows that to buy time, the regime has continued its policy of secrecy to mislead the international community. At the same time, the regime is blackmailing its foreign interlocutors into lifting sanctions and ignoring its missile programs, export of terrorism, and criminal meddling in the region.
Mrs. Rajavi added that as the Iranian Resistance has repeatedly stated, reinstating six United Nations Security Council resolutions against the regime, closure of nuclear sites and anytime, anywhere inspections are imperative to preventing the regime from acquiring a bomb.
According to the new IAEA report, despite the previous agreement, the clerical regime refuses to answer IAEA questions on four disputed sites and (to kill time) has postponed further talks until after its presidential election. According to the report, the regime's enriched uranium reserves have reached 16 times the limit allowed in the nuclear deal. The production of 2.4 kg of 60% enriched uranium and about 62.8kg of 20% enriched uranium are of grave concern.
This morning, at the opening of the Board of Governors meeting, Rafael Grossi, the Director-General of the IAEA, said: Despite agreed terms, "After many months, Iran has not provided the necessary explanation for the presence of the nuclear material particles…We are facing a country that has an advanced and ambitious nuclear program and is enriching Uranium very close to weapons-grade level." Mr. Grossi's remarks, also reported by Reuters today, reiterates, "The lack of clarification of the agency's questions regarding the accuracy and integrity of Iran's Safeguard Declaration will seriously affect the agency's ability to ensure the peaceful nature of Iran's nuclear program."
Secretariat of the National Council of Resistance of Iran (NCRI)
June 7, 2021