Commemorating Victor Gulotta, friend and great supporter of the Iranian Resistance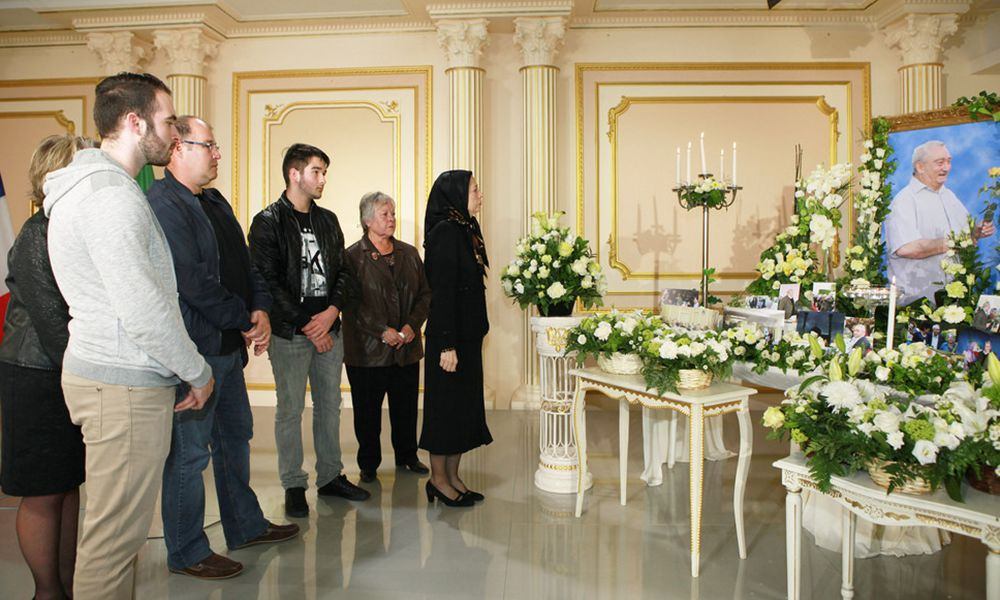 Auvers-sur-Oise, May 21, 2016 – A memorial ceremony for Victor Gulotta, a supporter of the Iranian Resistance residing in Auvers-sur-Oise, was held in the presence of Maryam Rajavi. His family and neighbors in Auvers-sur-Oise were in attendance and celebrated his memory.
Maryam Rajavi laid flowers at a monument commemorating Mr. Gulotta and in brief remarks, admired this loyal friend and great supporter of the Resistance.
She said:
The loss of Mr. Gulotta who was a great brother to us, is really tragic. At this moment our hearts are filled not by grief and sorrow, but by a great sense of respect and humbleness before his humanity.
He was a symbol of benevolence. He could not remain indifferent to injustice and he rebelled against the June 17, 2003, raid on our office. He could not accept the statesmen's bowing down to religious fascism.
When we describe Mr. Gulotta and other human beings like him as supporters of the Iranian Resistance, this word cannot be as expressive as it should regarding their role and the value of their work.
We should remember the days when the government of France was appeasing the Iranian regime. According to their agreements, later exposed in detail by French journalists, they raided the Iranian Resistance at the Iranian regime's behest. As they put it, they had come to annihilate this movement. They smeared the Resistance as the mullahs had requested.
It was in the midst of such a raid and demonizing efforts against the Iranian people's Resistance that Victor Gulotta listened and responded to his voice within against the religious fascism. They came to help. They expressed their solidarity without wanting anything for themselves. And before anything else, they proved the eternal values of human beings.
As if God wanted to show us his compassion in this way and say if there are evil people who throw dust on your head, there are also people like Victor Gulotta in whose love and sincerity you can find the greatest power. He was the child of peoples who paid the price for today's freedom, by their anti-fascist resistance in France and Italy several decades ago.
Yes, he proved the beauty of a human being who can resist and give infinitely. So, he is saved. We salute him and pray for the happiness of his soul. We pray that he rests in peace with his beloved friends from Ashraf who were slain for freedom.