Declaration by 2000 French mayors and elected representatives, presented to Maryam Rajavi, condemns executions in Iran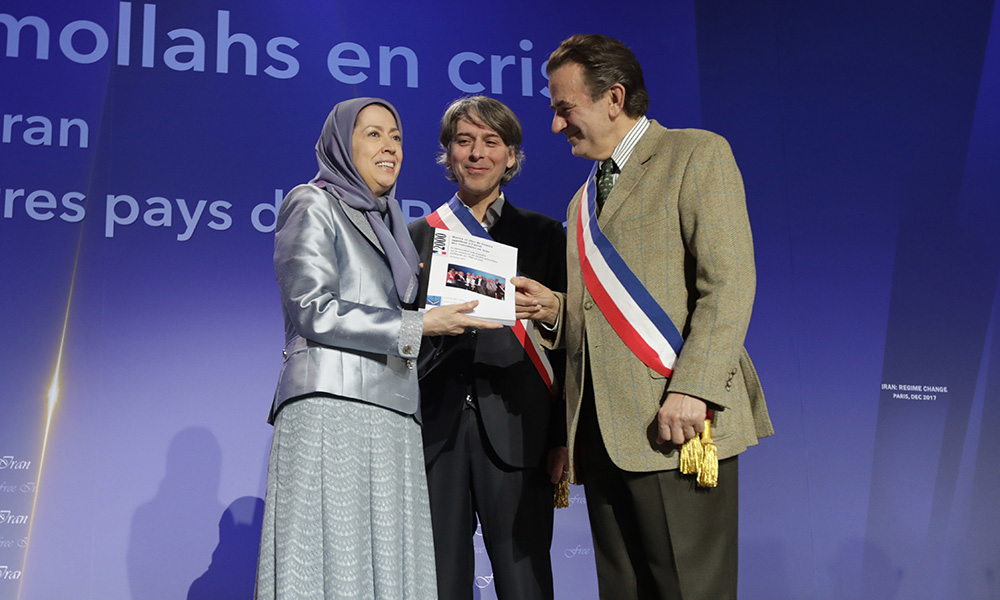 The declaration supports the movement calling for justice for the victims of the 1988 massacre
At the Paris conference on the "Explosive conditions in Iran, mullahs' regime in crises", Messrs. Jean-François Legaret, Mayor of the 1st District of Paris, and Jacques Boutault, Mayor of the 2nd District of Paris, presented a declaration to Maryam Rajavi on behalf of 2000 mayors and elected representatives of France. Before handing in the declaration, Mr. Legaret said:
Thank you Jacques Boutault, Mayor of the 2nd District of Paris. We share in the struggle and goals which we defend. Both of our municipal districts have hosted ceremonies, gatherings and testimonies paying tribute to the innocent victims of the massacre in 1988 where more than 30,000 were executed.
"Today, they want to deny this massacre, despite the fact that Amnesty International has recognized it as a crime against humanity. We must carry on this campaign. This is why we founded the Committee of Mayors of France for A Democratic Iran, along with Jean-Pierre Muller, Mayor of Magny-en-Vexin.
We call on the government of France to undertake measures with the International Court in The Hague and the UN and seek justice for such atrocious actions and indescribable torture and brutality.
We have compiled thousands of signatures in this pamphlet. You can count on our commitment and our campaign. There are a large number of us who are loyal to you. We are here to share in your struggle. We have always been prepared to defend this cause until the people of Iran embrace freedom.
Iran's freedom is embodied in a woman who has always continued her struggle. She is a woman who has never forgotten even for a moment the Iranian people's torment, sacrifice and suffering under torture. This woman crystalizes the spirit of resistance; she advocates a tolerant and democratic Islam. This woman espouses human rights and women's rights and embodies humane values, universal values which she wants to take for the people of Iran.