A report on the Iranian Resistance's conference in Paris, "Explosive Conditions in Iran, Mullahs' regime in Crises"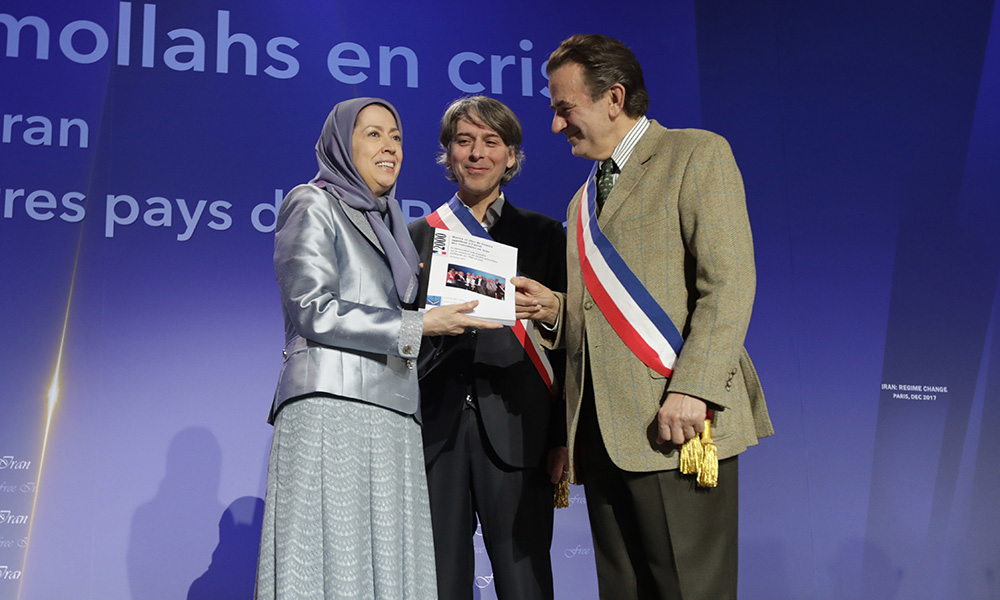 This was reiterated by Maryam Rajavi in a speech to a conference in Paris focusing on "Explosive Conditions in Iran, Mullahs' Regime in Crises", on Saturday, December 16, 2017.
The conference, consisting of three panels of European, Arab and Islamic, and North American dignitaries, was opened by Jacques Boutault, Mayor of the 2nd District of Paris. Then, Jean-François Legaret, Mayor of the 1st District of Paris and co-Chair of the French Mayors' Committee for A Democratic Iran, announced the support of thousands of French mayors and elected representatives for the Iranian Resistance and the movement calling for justice for the victims of the 1988 massacre in Iran.
The speakers of the first panel included Gilbert Mitterrand, President of France Libertés; Roger Godsiff and Matthew Offord, members of the British Parliament; Michele de Vaucouleurs, Member of the French National Assembly and President of the Parliamentary Committee for Democratic Iran; Sabine Leutheusser-Schnarrenberger, former German Minister of Justice; Rama Yade, former French Minister for Human Rights; Gerry Horkan, vice chairman of the Senate Budget Committee and deputy leader of the opposition party in the Irish Senate; Michael Kaminski, member of the Parliament of Poland; Romeo Nicoara, Member of the Romanian Parliament; and Otto Bernhardt, former Member of German Federal Parliament.
The speakers of the second panel included Sid Ahmed Ghozali, former Prime Minister of Algeria; George Sabra, President of the opposition Syrian National Council; Selva Oksoy, Vice Chair of the Syrian Coalition; Michel Kilo, a prominent Syrian opposition figure; Bassam Alamoush, former Ambassador of Jordan to Iran and former Minister of Administrative Development; Abdallah Altayar, Head of the Center for Future Gulf; Issa Turki, member of the Parliament of Bahrain; and Reyad Yassin, Ambassador of the Republic of Yemen in France and former Minister of Foreign Affairs.
The third panelists included Ambassador Lincoln Bloomfield, former Assistant U.S. Secretary of State; General James Conway, former Commandant of the U.S. Marines; and John Baird, former Foreign Minister of Canada.
Secretariat of the National Council of Resistance of Iran
December 16, 2017