Maryam Rajavi welcomed the EU's decision to impose restrictive measures on criminal leaders of the regime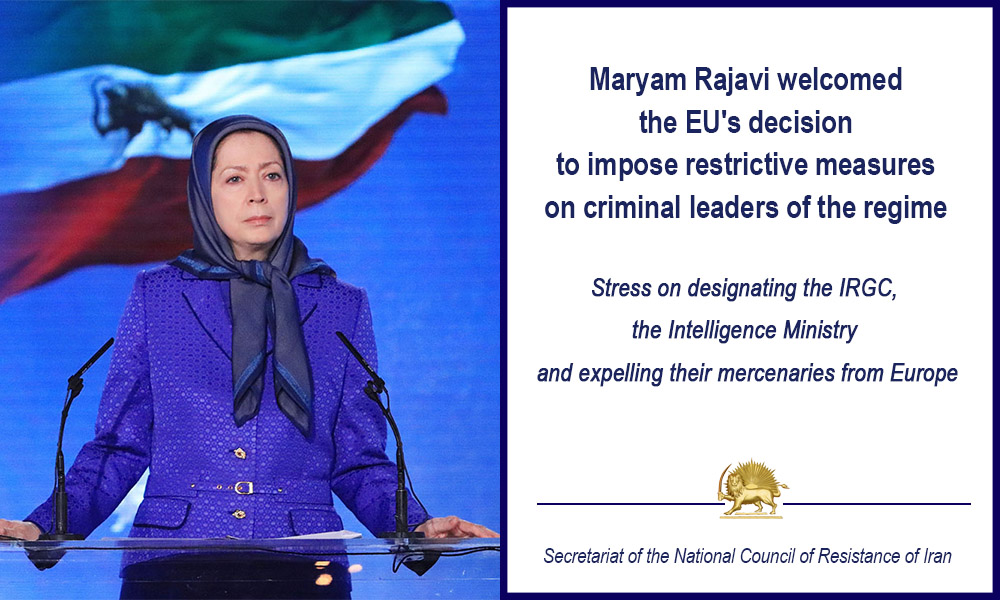 Stress on designating the IRGC, the Intelligence Ministry and expelling their mercenaries from Europe
Mrs. Maryam Rajavi, the President-elect of the National Council of Resistance of Iran (NCRI) welcomed the European Union's decision to impose restrictive measures on eight commanders of the Revolutionary Guards (IRGC), the paramilitary Basij, the State Security Force (SSF), and those who ordered firing on protesters during the November 2019 uprising. She said the Iranian Resistance has consistently stressed that Iran's ruling mullahs only understand the language of decisiveness.
Mrs. Rajavi reiterated the need to designate the entire IRGC and the Ministry of Intelligence, prosecute and expel their agents and mercenaries, and revoke mercenaries' citizenship and refugee status in Europe. Based on the experience of the past 40 years, Mrs. Rajavi said, these agents are not political refugees or ordinary citizens, but operatives and spies of the terrorist Quds Force and the clerical regime's Intelligence Ministry.
The clerical regime's Supreme Leader Ali Khamenei personally ordered brutal crackdown on the November 2019 uprising that left at least 1,500 protesters killed.
The European Union Today imposed restrictive measures on IRGC's Commander-in-Chief Maj. Gen. Hossein Salami, SSF Commander Brig. Gen. Hossein Ashtari, Basij Mostazafan Commander Brig Gen. Gholamreza Soleimani, IRGC's Ground Forces Commander, Brig. Gen. Mohammad Pakpour-Ziaei, SSF Special Forces Commander Brig. Gen. Hassan Karami, as well as the former head of Evin's notorious Prison Gholamreza Ziaei, Khuzestan Corps Commander, Brig. Gen. Hassan Shahsavar, and Tehran's Qods township Governor Leila Vaseghi, who ordered the shooting of protesters during the November 2019 uprising.
Secretariat of the National Council of Resistance of Iran (NCRI)
April 12, 2021