On Khamenei's order, regime hangs two detained protesters, Mohammad Mehdi Karami and Seyed Mohammad Hosseini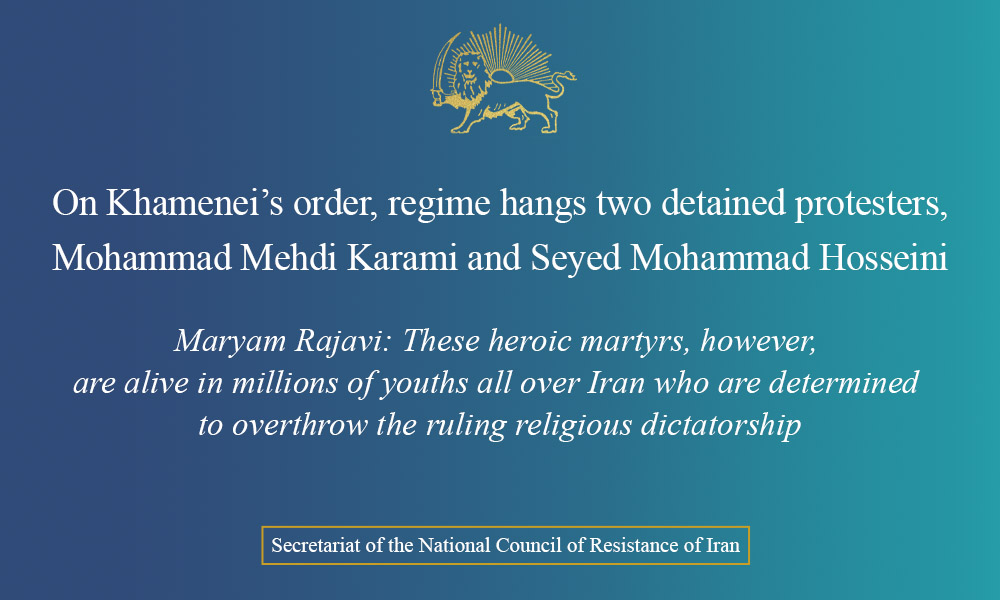 Maryam Rajavi: These heroic martyrs, however, are alive in millions of youths all over Iran who are determined to overthrow the ruling religious dictatorship
On the orders of the regime's Supreme Leader Ali Khamenei, and despite domestic and international outcries, two detained protesters, Mohammad Mahdi Karami (22) and Seyed Mohammad Hosseini (39), arrested during the nationwide uprising, were hanged this morning, Saturday, January 7, 2023.
The regime's judiciary had charged the two with killing a member of the Basij and blocking the Karaj Expressway. These martyrs had been arrested on November 3, 2022 and underwent torture. The regime's Judiciary sentenced them to death on December 4, on the bogus charge of "corruption on earth" and the regime's Supreme Court confirmed their death sentences.
Mrs. Maryam Rajavi, the President-elect of the National Council of Resistance of Iran (NCRI), said that the bloodthirsty Khamenei shed the blood of two brave youths to preserve his despicable regime in the face of the people's uprising. These heroic martyrs, however, are alive in millions of youths all over Iran who are determined to overthrow the ruling religious dictatorship. The murderous mullahs are gravely mistaken. Our people's response to repression and killings, the regime's main means of maintaining the velayat-e faqih system (absolute clerical rule), is to continue the uprising and the army of freedom.
Mrs. Rajavi added that in view of the killings in streets as well as the execution and murder under torture of the uprising's prisoners, negotiating and dealing with this barbaric regime are no longer justified. The United Nations, the European Union, and its member states, must take immediate action. The embassies of the regime should be shut down, the regime's Ministry of Intelligence and the IRGC should be put on the terrorist list, and their mercenaries should be expelled.
Secretariat of the National Council of Resistance of Iran (NCRI)
January 7, 2023