Hendon MP speaks at Anglo-Iranian rally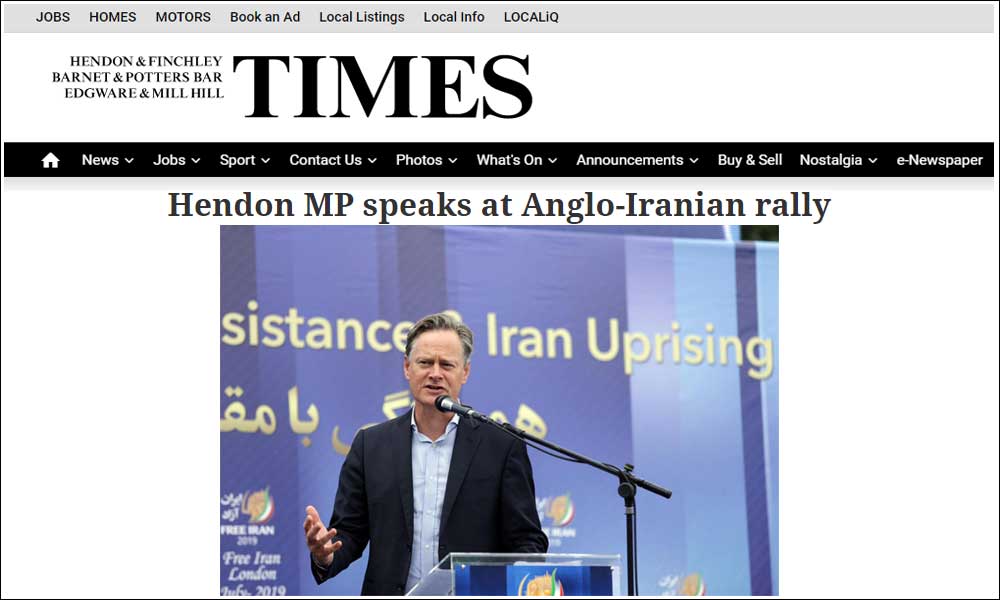 MPs showed their support at a march and rally for Iranian freedom.
Around 3,000 Iranians demonstrated in central London on Saturday at an event organised by Barnet Anglo-Iranians, supporters of the National Council of Resistance (Government in Exile).
The event was a protest against against the Iranian government's human rights abuses, public hangings, aggression, piracy, hostage-taking, and terror as well, as in support of people's uprising inside Iran.
Hendon MP Dr Matthew Offord, whose constituency is home to the highest percentage of Anglo-Iranians in the UK, spoke at the rally and demonstrated his support for the NCRI. Chipping Barnet MP Theresa Villiers
He said: "Today our response should be firm, held on the principle that the Revolutionary Guards (IRGC) and the regime of Iran should be held to account to their atrocities.
"These organisations should be proscribed in their entirety under the terrorism act."
This is not the first time Dr Offord has backed UK intervention in Iran's human rights violations. In 2016, he was one of 200 cross-party MP's who expressed their concerns in Parliament, calling for an investigation into the 1988 massacre of 30,000 political prisoners, committed by people who still today hold positions of power in the regime.
Maryam Rajavi, the president-elect of the NCRI, spoke to supporters by video message.
She said: "Your demonstration in London today is the culmination of a series of Free Iran protest rallies that ran from Brussels to Washington, Berlin to Stockholm in a month and a half."
Mrs Rajavi added that the regime understands no language but the language of firmness and determination, and urged the UK and Europe to 'stop paying ransom to the Mullahs,' calling specifically on the new UK government to support human rights in Iran.
During the march, a letter was also presented to Prime Minister Boris Johnson by a representative of the Barnet Angelo-Iranian Community of Youth, on behalf of the entire community, urging him to act.
The march went through Whitehall and Parliament Square and included performances by Iranian singer Marjan among other artists.
https://www.times-series.co.uk/news/17807265.hendon-mp-speaks-anglo-iranian-rally/?ref=twtrec