Iran: The staggering Coronavirus death toll in 478 cities exceeded 200,000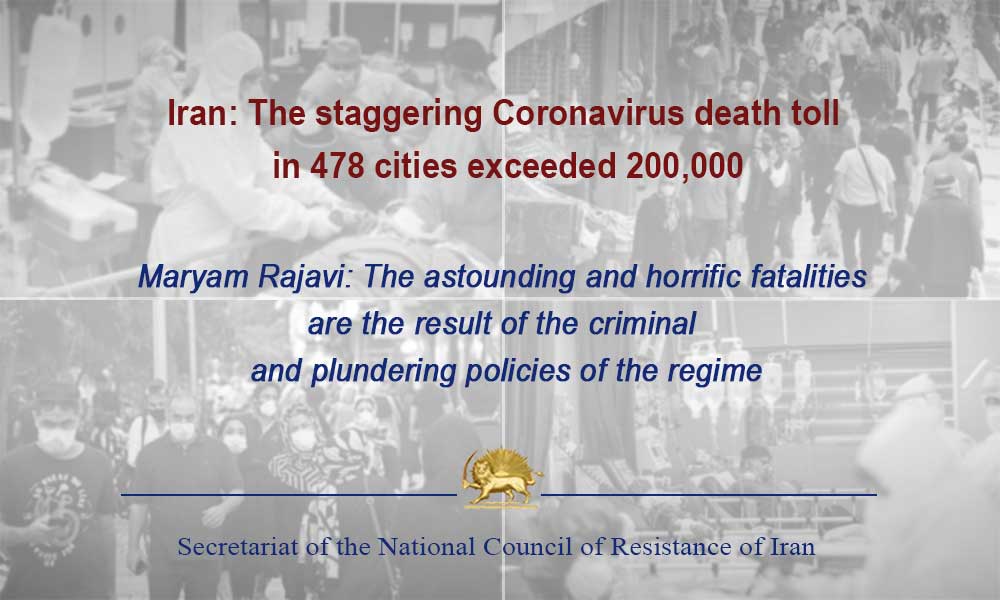 Mrs. Maryam Rajavi: The astounding and horrific fatalities are the result of the criminal and plundering policies of the regime; Khamenei and Rouhani bear direct responsibility.
By banning the import of the vaccine, they are creating a bigger disaster.
The death toll per capita in Iran is the highest in the world
• The head of the regime's judiciary: Iranians should not become the guinea pig for American and British COVID-19 vaccines.
• The Medical Organization's letter to Rouhani: Mass production of domestic vaccines will not start soon. The priority is to buy vaccines, a vital and essential need that must be provided to the people and the vulnerable and high-risk groups, as well as medical staff in the shortest possible time.
• Head of the Medical Organization: If vaccination is not done in time, virus mutations will reduce the vaccine's effect.
• Governor of Tehran: The risk of the new wave of COVID-19 is very high.
• Amol (north of Iran) has been at the forefront of mortality and infections since August.
The People's Mojahedin Organization of Iran (PMOI/MEK) announced on Monday, January 11, 2021, that the staggering Coronavirus death toll in 478 cities had exceeded 200,000. The number of victims in Tehran is 48,921, Khorasan Razavi 13,585, Isfahan 12,540, Qom 7,800, Mazandaran 7,782, West Azerbaijan 7,398, Gilan 7,070, Fars 6,100, Alborz 5,200, Sistan and Baluchestan 4,846, Kerman 4,416, Central Province 4,133, Yazd 3,572, Kurdistan 3,416, Ardabil 2,467, Qazvin 2,102, Ilam 2,071, South Khorasan 1,886, Chaharmahal and Bakhtiari 1,580, and Kohgiluyeh and Boyer-Ahmad 1,464.
Commenting on the astounding, horrific and regrettable fatalities, Mrs. Maryam Rajavi, the President-elect of the National Council of Resistance of Iran (NCRI), said: This catastrophe is the direct result of the clerical regime's criminal policy and their plundering of the Iranian people's resources in the past ten months. Such a high death toll could have been averted and much fewer. Khamenei, Rouhani, and other regime leaders bear direct responsibility for the increasing number of victims. Instead of paying the salaries of workers through the vast resources of the financial conglomerates controlled by Khamenei and the IRGC, they sent the Iranian people to the killing field of Coronavirus, and today, by banning the import of vaccines, they are creating even a bigger disaster.
Mrs. Rajavi added that the death toll in Iran, even the state controlled official figures, are much higher than the neighboring and Middle Eastern countries. Countries whose economic and social infrastructure and foundations are often much weaker than Iran. The death toll per capita in Iran is the highest in the world.
Secretariat of the National Council of Resistance of Iran (NCRI)
January 11, 2021