Iranian teachers hold protests in 40 cities in 20 provinces, chant "free all imprisoned teachers"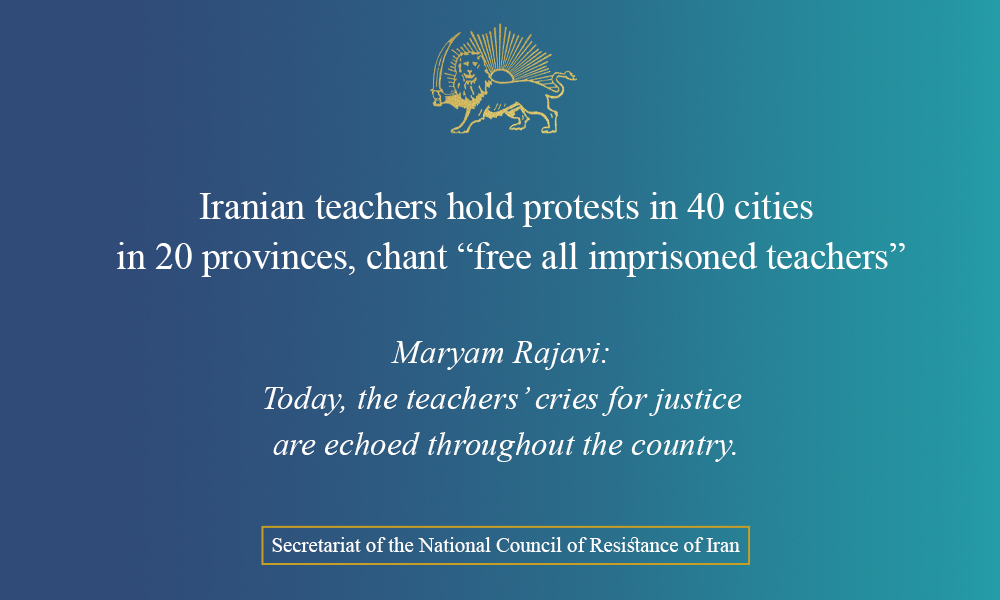 Maryam Rajavi: Today, the teachers' cries for justice are echoed throughout the country
On Saturday, September 25, 2021, simultaneous with the start of the new school year, teachers in more than 40 cities in Iran took to the streets in protest against the unbearable living conditions, non-implementation of the ranking plan, and non-payment of retirees' bonuses, etc. These protests took place in the provinces of Tehran, Fars, Kermanshah, East Azerbaijan, Mazandaran, Isfahan, Zanjan, Khuzestan, Lorestan, Ilam, Khorasan Razavi, North Khorasan, Kurdistan, South Khorasan, Yazd, Gilan, Kerman, Ardabil, Chaharmahal and Bakhtiari, Bushehr, and Kohgiluyeh and Boyer-Ahmad.
The teachers chanted: "The imprisoned teachers must be freed," "Teachers, demand your rights," "Even if we die, we will obtain our rights," "Teachers will die, but will not accept humiliation," "Unless we obtain our rights, we are not going to attend classes," "no discrimination, no compromise, granting our ranks without having to beg for it," "ranking is our inalienable rights."
Mrs. Maryam Rajavi, the President-elect of the National Council of Resistance of Iran (NCRI), said that the Chants of "Teachers will die, but will not accept humiliation" echo in the four corners of our nation, in Tehran and 20 provinces. Hail to freedom-seeking teachers who demonstrated their resolve to obtain their rights plundered by the ruling religious dictatorship. Perseverance, uprising, and overthrowing the mullahs' regime is the only way to restore the rights of teachers, workers, and other sectors, whose rights the mullahs have been violating for many years and have brought them nothing but suppression, discrimination, poverty, inflation, and unemployment.
Secretariat of the National Council of Resistance of Iran (NCRI)
September 25, 2021