Iran: Widespread teachers protests in 53 cities (22 provinces) despite intense security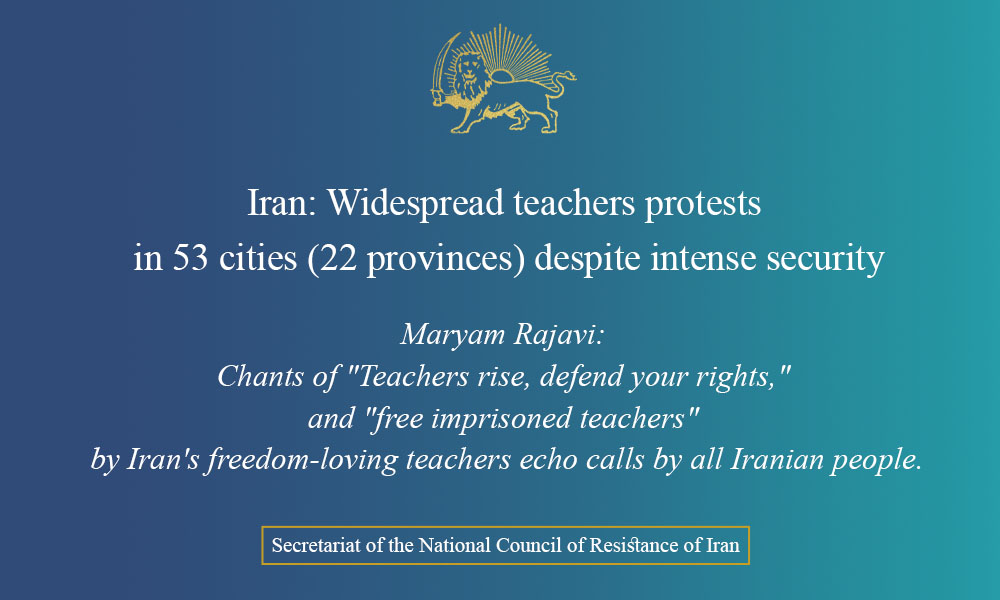 On Thursday morning, November 11, 2021, teachers, and educators in 53 cities in 22 provinces rallied to protest against unpaid salaries, skyrocketing prices, unbearable living conditions, and the regime's neglect of their legitimate demands. In addition to Tehran, these rallies took place in Kermanshah, Shiraz, Isfahan, Ahvaz, Andimeshk, Yazd, Lordegan, Qom, Kuhdasht, Ilam, Arak, Ganaveh, Marivan, Mashhad, Shirvan, Qazvin, Aligudarz, Pol-Dokhtar, Zarrin Dasht, Mamasani, Khorramabad, Rasht, Bandar Anzali, Borujerd, Mahshahr, Izeh, Tabriz, Marvdasht, Neka, Saqez, Zanjan, Bushehr, Babol, Dorud, Malayer, Sonqor, Amol, Hamedan, Razan, Ziviyeh, Sari, Jolfa, Dezful, Sanandaj, Urmia, Divandarreh, Daran, Bukan, Khorrambid, Bojnurd, Farashband, and Miandoab were held in front of education departments.
The State Security Force (SSF) and plain-clothed agents scrambled to prevent the rallies. Mounting a massive show of force in Tehran, the SSF tried to disperse the protesting teachers, then attacked the protesters, ripping up pictures of the November 2019 uprising's martyrs held by teachers. The regime's repressive forces prevented teachers from filming the rally and arrested several teachers.
Among the slogans chanted by teachers at the rallies were: "We will not surrender, nor give up, we demand the 'Ranking Act' to be implemented," "Imprisoned teachers must be released," "We will not give up until we obtain our rights," "Teacher shout your demand," "Implementing the Ranking Act without deception," "No nation has ever experienced so much injustice," "Shame on parliament and the government," and "Our enemy is here, they lie that it's America." The banners and placards read, "Teacher rise up and defend your rights," and "Teacher stand up to end discrimination." In some rallies, leaflets in commemoration of the November 2019 uprising's martyrs were distributed.
Mrs. Maryam Rajavi, the President-elect of the National Council of Resistance of Iran (NCRI), remembering the martyrs of the November 2019 uprising, hailed the protesting teachers, educators, retirees, and farmers, and said: Khamenei, Raisi, and other ruling murderers cannot evade the Iranian people's Call for Justice, and the anger of the arisen people fed up with their oppression and injustice and have no way out. The cries of Iran's freedom-loving teachers across Iran, chanting today, "Teachers rise, defend your rights," and "free imprisoned teachers" echo calls of all the Iranian people. On the anniversary of the November 2019 uprising, I hail the arisen teachers, educators, retirees, and farmers and pay tribute to the martyrs.
Secretariat of the National Council of Resistance of Iran (NCRI)
November 11, 2021