The imperative to blacklist the mullahs' Ministry of Intelligence (MOIS) and Khamenei's office with its extensive financial and commercial empire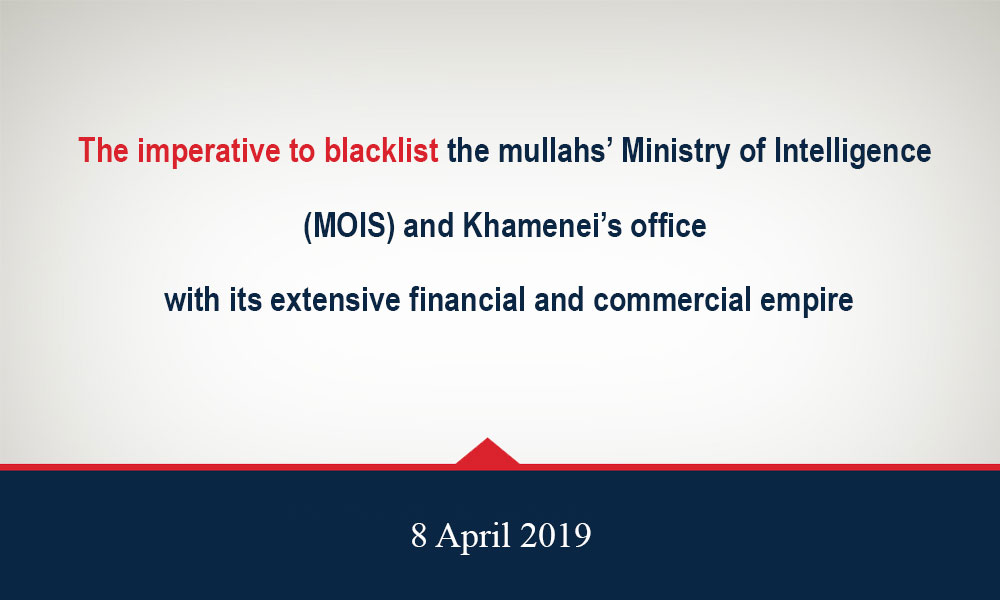 Among them is the need to designate the mullahs' Ministry of Intelligence and Security (MOIS) on the same list. The MOIS has been operating hand-in-hand with the IRGC in many of the suppressive operations inside Iran as well as conducting terrorist actions abroad. Moreover, the agents of the MOIS and the terrorist Qods Force must be expelled from the U.S. and Europe.
At the same time, Khamenei's office, which acts as the main command center for the IRGC and funds the IRGC through its extensive financial and commercial empire, must also be included on the terrorist list.
And, the time has come for the right of the Iranian people and the Iranian Resistance to overthrow the religious fascism and to obtain freedom is recognized.
The entire issue is that the medieval regime has in the most treacherous manner impeded the economic and social development of Iran for many years in order to preserve its own grip on power. The price of preserving a regime that conflicts with history has been paid through conducting massacres in the ranks of the MEK and through the destruction of Iran and plundering of the country's wealth and assets.
Indeed, where have the heavy annual tolls that the municipalities took from people gone? Where are the oil revenues? To what have the revenues from petrochemical sales been allocated?
In truth, even if one percent of the annual revenue resulting from petrochemical exports conducted by the Khamenei faction was allocated to rebuilding efforts, Pol-e Dokhtar would not be drowned in mud today.
If a small portion of the IRGC's expenses was instead spent on construction efforts in Khuzestan, today the residents of Khuzestan and our Arab compatriots would not be suffering and afflicted by such tragedies.
I want to stress and reiterate that the solution lies only in the hands of the Iranian people and their resolve. Therefore, the formation of popular councils to help and send aid to flood-stricken areas is an urgent national duty.
Khamenei and his IRGC are today trying their hardest to prevent popular protests and expression of anger in flood-stricken cities. However, the day is not far when this destruction that has brought misery to so many people will come back to hold the regime accountable, with the Iranian people bringing the velayat-e faqih regime to its end.
This is the same mandate and mission that the MEK and Units of Rebellion will implement with the help of the Iranian people.
The heroes and heroines of the Ashraf Light epic, and all the martyrs of the people, have made the ultimate sacrifice for the realization of this goal. Their blood and suffering will undoubtedly bear fruit.