Maryam Rajavi called all shopkeepers, tradesmen and merchants to support protesters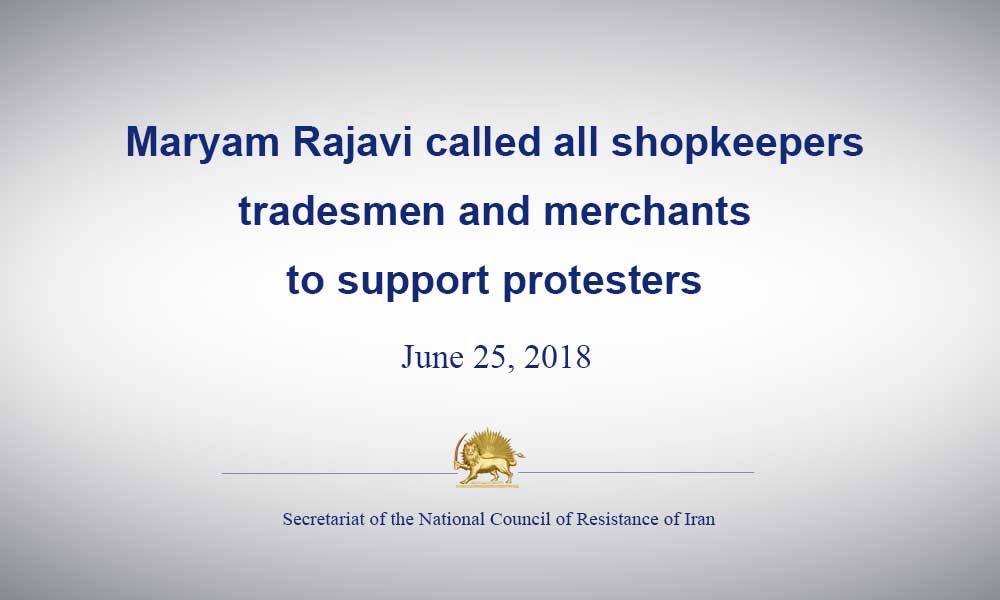 This morning, Monday, June 25, a large part of the Tehran Bazaar went on strike. Marketers and shopkeepers, including those in the markets of goldsmiths, fabric stores bazaar, Saray-e Pachenar, Saray-e Moshir, shoemakers in Big Charsough, the large bazaar at Small Charsough, the Kuwaitis' Bazaar, Sabze Meydan, Saray-e Melli, the carpet market in Saray-e Bou Ali and 15th Khordad and the Shah Mosque, Bain al-Haramain Bazaar, the sewing machine marketers in Khayyam Ave., coppersmiths' Bazaar at Nasser Khosrow, and the marketers at the Parsian passage have joined this massive strike. They are protesting against the currency crisis and the rise in the price of the dollar as high a 9,000 tomans, and the plundering policies of the Iranian regime and its corrupt leaders.
Shopkeepers and marketers are demonstrating and rallying toward the Sabzeh Meydan and Baharestan Square. Yesterday and today the protesters have been chanting: Let go of Syria, think about us; Strike! Strike! We are all together; We do not want 10-thousand-toman dollars; Zealous marketers, support, support.
Maryam Rajavi, saluted the brave marketers for their uprising in protest against high prices, corruption and looting of the Iranian nation's assets by the mullahs' regime, and called on all shopkeepers, tradesmen and merchants throughout the country to support and join the protesting marketers. She said: the exchange crisis and unprecedented high prices, which has imposed a burdensome pressure on the overwhelming majority of the people of Iran, is the outcome of the policies of the ruling religious fascism from the beginning that have wasted the assets of the Iranian people, either by spending on domestic repression, nuclear projects, export of terrorism and fundamentalism and warfare in Syria, Iraq, Yemen, Lebanon and other countries in the region, or have been looted by the regime's corrupt leaders. The policies that are tied to the existence and benefits of all the gangs of this regime.
In their nationwide uprising last January, the Iranian people emphasized the fact that the main cause of all current economic and social problems of Iran is the ominous regime of the mullahs, which has devastated Iran's industry, agriculture, assets, and national and financial guarantees, and has destroyed the country's environment.
Secretariat of the National Council of Resistance of Iran
June 25, 2018