Maryam Rajavi commends Iran's protesting bazaar merchants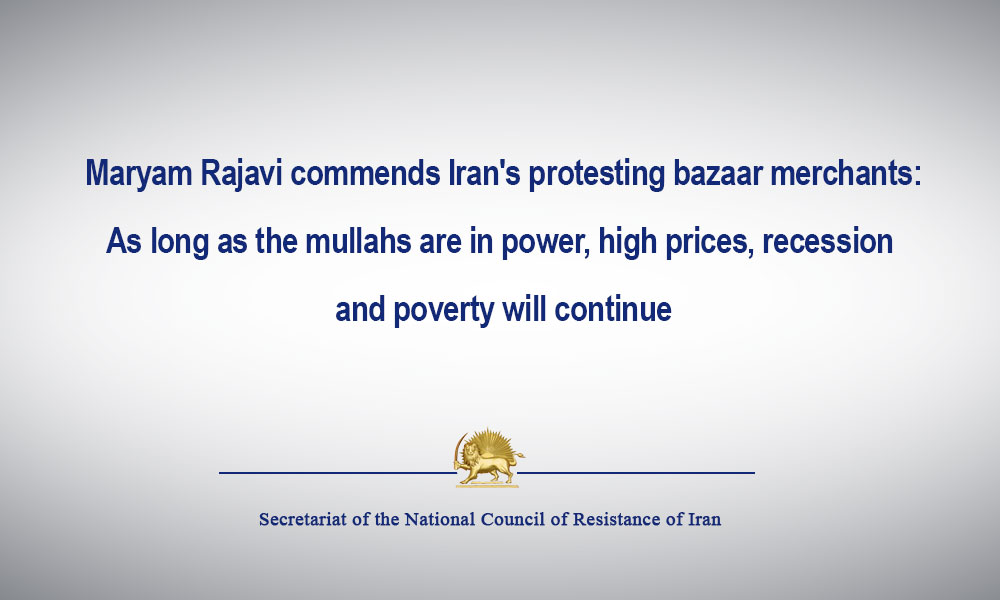 Maryam Rajavi commended the brave bazaar merchants and shopkeepers in Tehran and dozens of other Iranian cities who are on strike against the mullahs' corrupt regime. She said that the bazaar strike, coming on the heels of the strike by hardworking truckers, shows the general population's desire for regime change. For as long as the criminal and corrupt mullahs are in power, high prices, recession and poverty and the path to environmental destruction will continue; the only solution to this national crisis is the establishment of democracy and popular rule.
Since this morning, in line with a previous call and despite suppressive measures by the regime, large parts of Tehran's Grand Bazaar and bazaars in various cities including Mashhad, Tabriz, Azarshahr, Maragheh, Isfahan, Shahreza, Mobarakeh, Orumieh (Urmia), Miandoab, Sardasht, Piranshahr, Shiraz, Kazerun, Zahedan, Kenarak, Hirmand, Chabahar, Iranshahr, Saravan, Sanandaj, Marivan, Baneh, Saqqez, Kermanshah, Paveh, Rasht, Gorgan, Turkeman, Arak, Karaj, Moghan, Borazjan, Bandar Gonaveh, Zanjan, Abhar, Nik Shahr and Rafsanjan have joined the strike.
Maryam Rajavi described the nationwide strike by bazaar merchants and truck drivers as a part of the people's uprising with the goal of overthrowing the regime and establishing freedom and social justice. She said that under the mullahs' regime, the wealth of Iran's people, which should be spent on economic improvements and people's prosperity, is wasted on suppression and export of terrorism and external wars and is stolen by the ruling mullahs.
Secretariat of the National Council of Resistance of Iran
October 8, 2018