Maryam Rajavi calls for independent relief effort for flood victims in Iran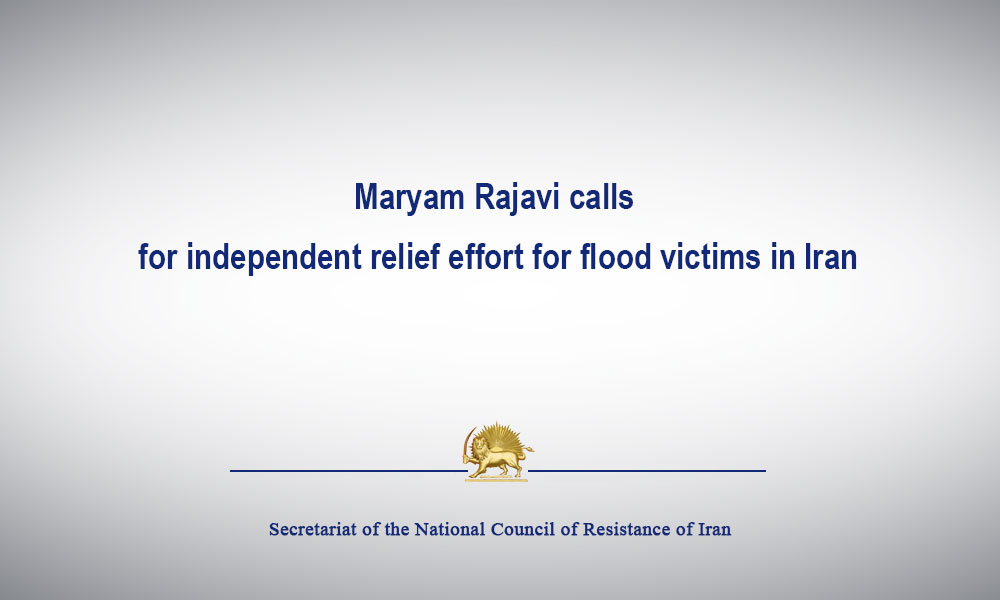 The criminal and corrupt ruling mullahs have not undertaken the least measures to counter the catastrophic impact of the flood, despite forecasts of heavy rain in these regions. People in many cities and villages were forced to flee their homes with no temporary shelters prepared for the vast number of victims by the ruling regime.
The regime's head, Khamenei has kept mum on the destructive floods and the catastrophic consequences, while other authorities such as Larijani and Rohani as well as cabinet members and IRGC commanders stoke public anger by treating the disaster as a photo op in visits to flood stricken regions.
Parliament member from Ahwaz, Javad Khazem-Nasab, called Rouhani's visit to Khouzestan fruitless, claiming the government has sent "mostly weary and faulty machinery" to Khouzestan, adding that "lack of waterway dredging and management" have led to these floods.
The situation in Iran's northern regions and Golestan province and in cities like Agh-Ghola and Gomishan remains critical, despite two weeks since the beginning of floods in those regions. Tthe regime has not undertaken minimum measures to resolve problems stemming from the flood and victims can only count on popular relief action.
Maryam Rajavi called on the Iranian nation once again, especially the youth, to form popular councils for independent relief action to bring aid to the flood victims, especially in Khouzestan, Lorestan and Ilam. She pointed out that while the mullahs have no concern other than maintaining their shameful rule and plundering the nation, the only way to counter flood effects was national solidarity.
She added that the mullahs are responsible for leaving the country defenseless in face of natural disasters by destroying the environment with irreparable deforestation, huge embezzlements, and wasting Iran's resources for repressive, terrorist and war mongering ends, and must be held accountable for the countless victims and millions of refugees caused by the recent floods.
Secretariat of the National Council of Resistance of Iran
April 1, 2019