Iran: Eighth executions in one week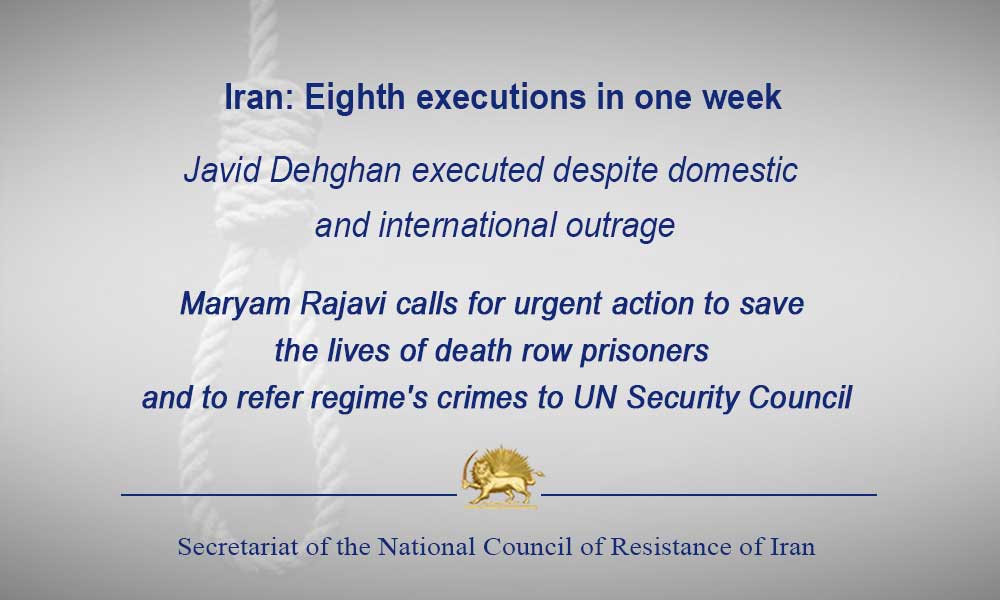 Javid Dehghan executed despite domestic and international outrage
Mrs. Rajavi calls for urgent action to save the lives of death row prisoners and to refer regime's crimes to UN Security Council
Despite widespread domestic and international protests, this morning the clerical regime's Judiciary hanged the Baloch political prisoner Javid Dehghan Khald in Zahedan Prison, upon the insistence of the Revolutionary Guards. Javid, 31, was arrested in May 2015 and sentenced to by the Court in Zahedan after being severely tortured to make a forced confession.
The clerical regime, in fear of the escalation of the people's protests caused by repression, poverty, and Coronavirus, is desperately trying to control the situation by creating an atmosphere of terror and intimidation through stepping up clampdown, torture, and execution. In the past week alone (January 23rd to January 29), seven more executions have been registered in different cities of Iran. This figure does not include covert executions.
On January 23, a prisoner was executed in Qom, on January 25, Mehdi Ali Hosseini, another Iranian wrestling champion, was executed in Dezful Prison. On January 27, Abbas Ali Hosseini was executed in Zanjan Prison, and on January 28, another Baluch prisoner, Anvar Naroui, was executed in Dastgerd Prison in Isfahan. On January 29, in another heinous crime, Khamenei's henchmen hanged a female prisoner in Sanandaj Central Prison.
On January 28, Ali Motayeri, an Iranian-Arab prisoner was executed in Ahvaz Sheiban Prison under the pretext of "Moharebeh (Waging war against God)" and "corruption on earth." He was wounded during his arrest in May 2018 and tortured to make a forced confession.
Mrs. Maryam Rajavi, the President-elect of the National Council of Resistance of Iran (NCRI), reiterated that this regime cannot last even for a day without torture and execution. She again urged the United Nations and human rights organizations, as well as European countries and the United States, to take immediate measures to save the lives of death row prisoners. She called for the referral of the Iranian regime's dossier of arbitrary executions, massacres of political prisoners, and killings of demonstrators to the United Nations Security Council, and for its leaders to be brought to justice for four decades of crimes against humanity. This regime is a disgrace to contemporary humanity and must be isolated by the international community, Mrs. Rajavi emphasized.
Secretariat of the National Council of Resistance of Iran (NCRI)
January 30, 2021