Maryam Rajavi: Navid Afkari's cry for justice is the cry of thousands of tortured political prisoners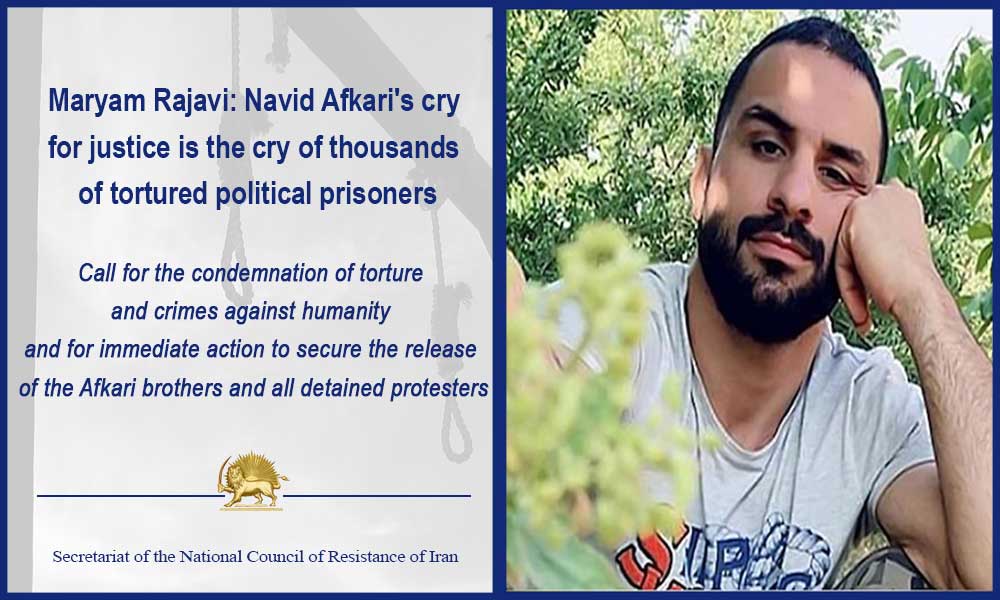 Call for the condemnation of torture and crimes against humanity and for immediate action to secure the release of the Afkari brothers and all detained protesters
In connection to the clerical regime's brutal tortures on Afkari brothers for forced confession, Mrs. Maryam Rajavi, the President-elect of the National Council of Resistance of Iran (NCRI), said: The vicious tortures inflicted on Navid Afkari and his brothers are outrageous. I call on everyone to rise in support of the Afkari brothers and convey their voice and the Iranian people's cry for freedom throughout Iran.
She added that the cry of the Afkari brothers is the cry of thousands upon thousands of political prisoners who were either martyred under torture or executed with wounded bodies. Crimes against humanity in Iran, which began with the mass executions of political prisoners in 1981, climaxed in the 1988 massacre (of 30,000 political prisoners), as well as in seven massacres of unarmed and defenseless members of the Mujahedin-e Khalq (MEK) in Camps Ashraf and Liberty, in Iraq, and the killing of more than 1,500 protesters in the November 2019 uprising. Those atrocities are now continuing with brutal torture and death sentences against detained protesters in Iran.
Mrs. Rajavi once again urged the United Nations Security Council, the Secretary-General, the UN High Commissioner, and the Human Rights Council as well as the European Union to take immediate action to secure the release of the Afkari brothers and all prisoners of conscience in Iran. Maintaining silence about torture and crime against humanity would amount to violating the values that humankind has sacrificed tens of millions of lives to achieve, she added.
Secretariat of the National Council of Resistance of Iran (NCRI)
September 2, 2020