Iran: Coronavirus fatalities exceed 2,600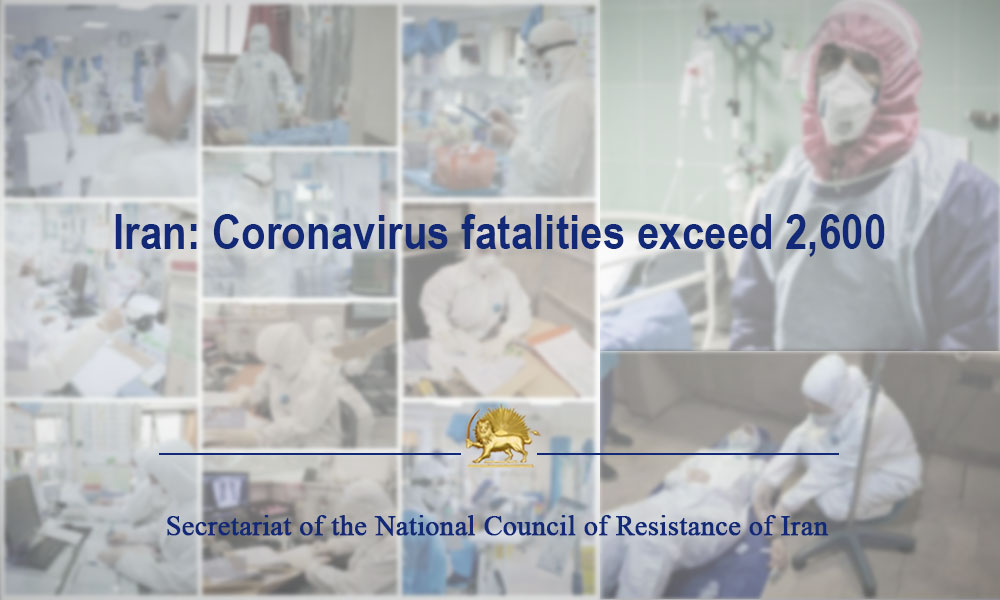 The number of victims in Qom is 500, Tehran 420, Gorgan 204, Kashan 142, Isfahan 121, Mashhad 205, Qazvin 98, Kermanshah 105, Gilan province 450, and Alborz95.
Homayoun Yousefi, a regime's parliament deputy and member of the "National Committee for Coronavirus", said today that "the disease will reach its peak in the next two weeks" and the number of those hospitalized will increase by 10-15% daily".
The situation has aggravated the infighting among the ruling factions. Ali Nowbakht, chairman of the Parliament's Health Commission, implicitly referred to the IRGC's destructive role: "Non-medical matters are undermining the Ministry of Health's plans to prevent and control the Coronavirus. I consider the virus more than just a medical issue. As an economic, political, social, cultural, security and judicial issue …it has not been taken seriously."
In these circumstances, the state in the country's hospitals is continuously deteriorating due to a lack of facilities. Dozens of dedicated physicians and nurses have contracted the virus while treating their patients and lost their lives.
Mrs. Maryam Rajavi, the President-elect of the National Council of Resistance of Iran (NCRI), hailed those honorable and committed physicians and nurses and extended her condolences to their families and the Iranian medical community. Mrs. Rajavi said that these dedicated men and women are the source of honor and pride for a nation that has refused to surrender to the mullahs' inhuman regime in the past 40 years and has insisted on its national pride and human values while challenging the religious dictatorship ruling Iran.
Secretariat of the National Council of Resistance of Iran
March 9, 2020